While West Ham offered a few early issues, it was eventually a job well done by Jurgen Klopp's Liverpool 2.0, who are steadily growing into their new shoes.
Another Anfield Sunday and another three points.
Against David Moyes' stubborn outfit, for Liverpool, there were obvious scene-stealers among those who took to the field in red, but there were also those who offered a more subtle excellence.
In the case of the former, it was another very visibly productive day for those who have been placed front and centre during the early exchanges of the new season.
Whereas, in the case of the latter category, it was a victory that was underpinned by a couple of players who are consigned to the shadows a little more than they would like to be.
Fresh attitudes
An all-action display from Dominik Szoboszlai, an opening goal from the penalty spot by Mohamed Salah and the accustomed chaos of Darwin Nunez.
The Uruguayan was resplendent with a glaring miss and beautifully taken goal of his own and the other fan favourites each gave a significant something of themselves in this one.
It was also reassuring to see Alexis Mac Allister literally chip in with the first direct assist of his Liverpool career, in what was arguably his best display for his new employers so far.
There seems to be a growing consensus amongst talking heads that there is something about this rebooted Liverpool that might just make them a compelling element in the Premier League title race this season.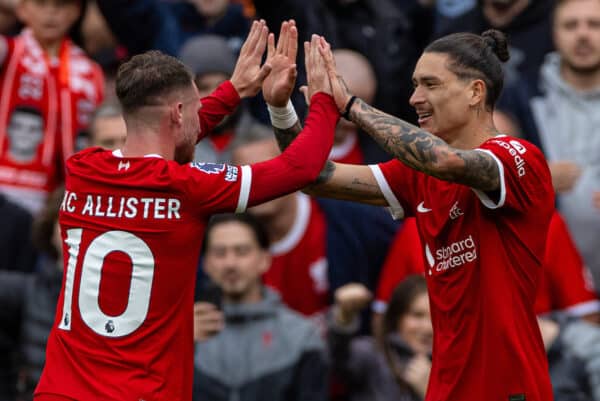 Early days and all that, with 32 league games to go the marathon has barely begun, but sometimes a football team omits a vibe of confidence and sure-footedness that is hard to ignore.
Granted, thus far we've usually clicked into gear having conceded the first goal, but what is noticeable is that heads do not drop when errors occur.
Oh, conceded a goal, have we? It is a mere trifling event, fear not, we shall go on to win 3-1.
The addition to the midfield of a force of nature in Szoboszlai makes such a situation easier to create, but it happily doesn't make for a one-man midfield.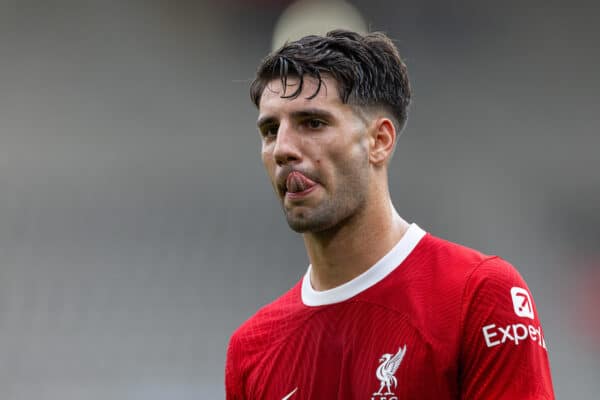 Despite the fluctuations of last season, our run-in blew the cobwebs away and offered proof to the players themselves that the sky was not falling in after all.
Should tangible rewards come Liverpool's way in May, then we should never downplay the importance of the corrective measures that kicked in from mid-April.
As part of this, the increased profile of Curtis Jones has made the introduction of Szoboszlai and Mac Allister almost seamless.
Beyond the experiment of dropping Cody Gakpo into a deeper role during the first couple of games, since the return of Jones, neither Jordan Henderson nor Fabinho have been high on the list of talking points among Reds.
This is a testament to the midfield trio of Jones, Szoboszlai, and Mac Allister gelling rapidly.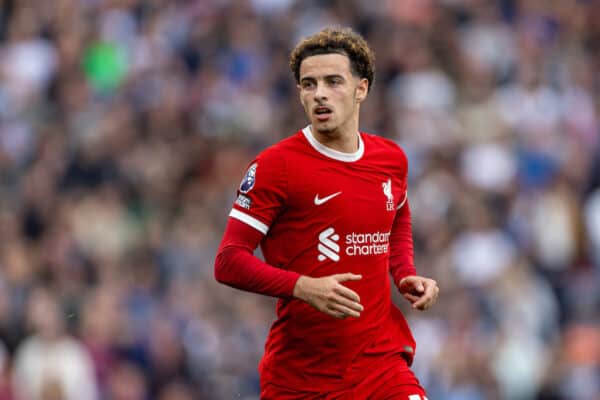 What Jones' contribution to the team also gives Klopp is the opportunity to ease Ryan Gravenberch into his new surroundings.
It also allows Stefan Bajcetic the scope to glide back into the picture, rather than finding himself airdropped into the fray too soon.
It takes pressure off Harvey Elliott, who has been impressive in the cameos he has made from the bench, and it permits Wataru Endo to act as an insurance policy.
Meanwhile, at some stage, we will all be stunned when we realise Thiago is still a Liverpool player once he returns to full fitness.
In the background, we continue the global search for the number six that Moises Caicedo must now wish he had opted to become.
Unexpected influences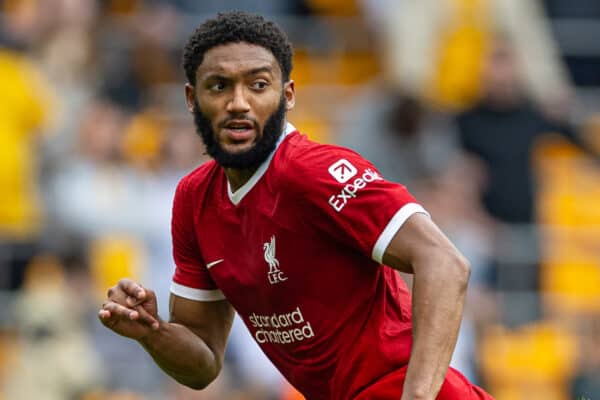 In defence, in the absence of Trent Alexander-Arnold, Joe Gomez has filled the breach admirably.
A player who obviously won't pull off the range of passing that our No. 66 will, but someone who brings a level of calm authority that goes widely unrecognised, largely due to the occasional misplaced pass that is all too often used as a stick to beat him with.
It kind of makes Gomez a modern-day Gary Ablett, who will be identified as the scapegoat in times of rancour, yet rarely praised for the solid work they produce.
Within this theme, on Sunday, it was Joel Matip who drew compliments from considered observers.
A player who can be as vital to our defence in the seasons ahead as James Milner was to our midfield.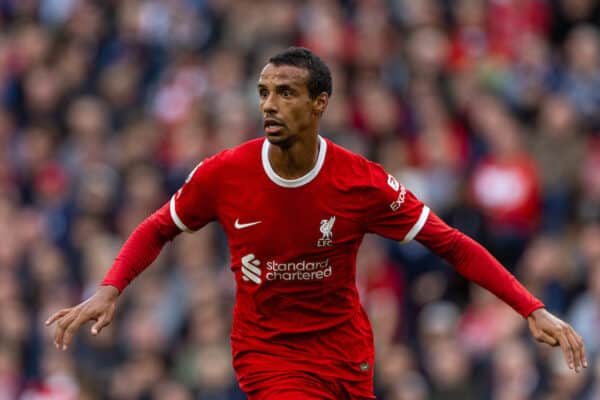 Here is a man who openly admits he'd be mad to leave the club, yet must privately reconcile that he is no longer assured of a place in the starting line-up.
All this despite having played as many Premier League games so far this season as Virgil van Dijk has, and twice as many as Ibrahima Konate.
Against West Ham, Matip's positioning was magnificent throughout, his reading of the game and on-ball intelligence something of a throwback to his best days.
Both he and Gomez played a huge part in neutralising the visitors as an attacking threat as the game wore on.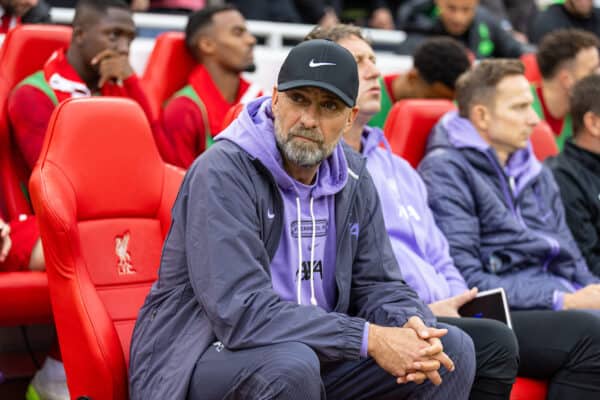 Along with Jones, I wouldn't be surprised in the slightest if the end-of-season stats speak very favourably of the contributions of Gomez and Matip this season.
Half a dozen league games in and it is undeniably so far so good, but there are tests to come.
Our next two Premier League fixtures will take us away to the teams currently sat in fourth and third respectively, where we will get to see if Ange Postecoglou's post-Harry Kane Tottenham are the real deal or not.
We will also find out if Roberto De Zerbi and his talented side can continue to successfully spin the Thursday night Europa League and the Sunday afternoon Premier League plates without one smashing to the floor.
Up the Reds.