Southampton are "confident" of recouping a fee of around £50 million for Reds target Romeo Lavia, which would make a potential deal difficult this summer.
The midfielder has been the subject of plenty of speculation in recent days, with the latest reports indicating that he has become Liverpool's next priority for the summer rebuild.
Belgian journalist Sacha Tavolieri said earlier this week that talks are "advancing well" over a potential switch to Anfield, with James Pearce and Raphael Honigstein of The Athletic later indicating that one of the "current crop" will have to make way if there is to be a third midfield arrival.
Southampton boss Russell Martin sounded resigned to losing some of his key players this summer with his comments in recent days, but it appears the Saints aren't prepared to let their man go cheaply.
Along with Liverpool, Lavia has attracted interest from some of the Premier League's top sides, including the likes of Chelsea, Arsenal and the teenager's former club Man City.
Sky Sports' Melissa Reddy has since written that Soutampton are "confident" of securing £50 million for the 19-year-old, which could become a stumbling block for the Reds.
"There would need to be a significant dent in Southampton's asking price for the Belgium international, who would also need to make clear Anfield is his destination of choice," wrote Reddy when discussing Liverpool's hopes of making Lavia their third acquisition of the window.
"Liverpool's approach this summer has been to extract value for the right profile despite an inflated market and pursue 'clean' deals that do not involve bidding wars or become drawn out."
Reddy also echoed Pearce and Honigstein's line that the Reds' "stance" is that one of the existing midfielders must leave in order to facilitate the signing of another.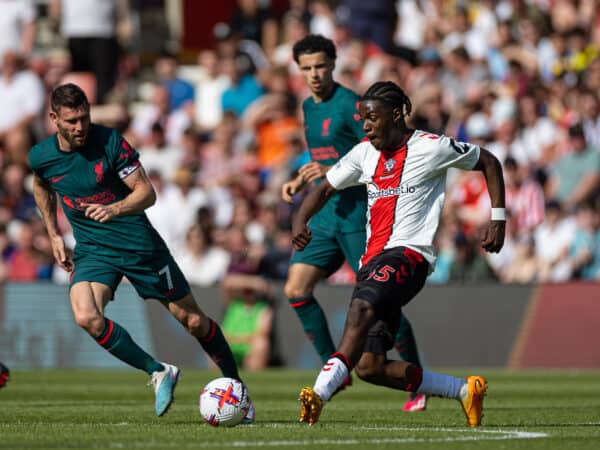 It looks to be a slight blow to fans hoping to see the Belgian make the move to Merseyside this summer, with the £50 million asking price unlikely to be an outlay Liverpool are willing to make for such a young player.
Rivals for his signature are also likely to be perturbed by the cost should Southampton hold their ground, but Lavia will be keen to return to the top flight and the Saints could see their hand forced in the coming weeks as the window goes on.
Lavia may have to express a desire to make Liverpool his next club if the Reds are to negotiate a lower price, but as things stand, the Saints believe that they will be able to pick up a healthy fee for their star player despite suffering relegation to the Championship.
Man City currently have a buyback option of £40 million for the 19-year-old which comes into effect next summer, giving Southampton a relatively healthy bargaining position from which to negotiate.
Liverpool still have Lavia firmly within their sights, but a compromise may have to be reached between the two clubs in order to get a deal over the line.