Liverpool's players are back for pre-season and their first friendly of the summer is a week away, so how do the Reds' plans compare to other Premier League sides?
There's a wide range of approaches to pre-season taken this summer, to say the least.
Man United have eight friendlies lined up, while Man City have just three friendlies plus the Community Shield.
After last summer's failed pre-season, something Jurgen Klopp admitted earlier in the year, Liverpool's pre-season looks a lot calmer than previous summers.
The Reds will play just five games, which is fewer than usual, and partake only in games while in Germany and Singapore, then back in England at Deepdale.
Four of their opponents are German sides. Klopp seems to have had a very hands on approach to how pre-season is run, returning to Singapore and opting not to go to the USA.
Liverpool's Pre-season Dates
July 19 – vs. Karlsruher
July 24 – vs. Greuther Furth
July 30 – vs. Leicester
August 2 – vs. Bayern
August 7 – vs. Darmstadt (Deepdale)
By the time Liverpool line up against Karlsruher next Wednesday, Arsenal will already have played two of their seven games (when counting the Community Shield).
But other rivals, such as Tottenham and Chelsea, only have five friendlies planned like Liverpool.
Newcastle, though, are taking in seven warm-up games.
Meanwhile, teams like Brighton, Fulham and Wolves currently have only four games planned.
Although, that's nothing on Burnley, who have just ONE friendly scheduled despite returning to pre-season training over a month ago, on June 5.
New boys Luton have just three games currently lined up. Not ideal preparation for a first ever season in the Premier League.
What did Klopp say about last summer?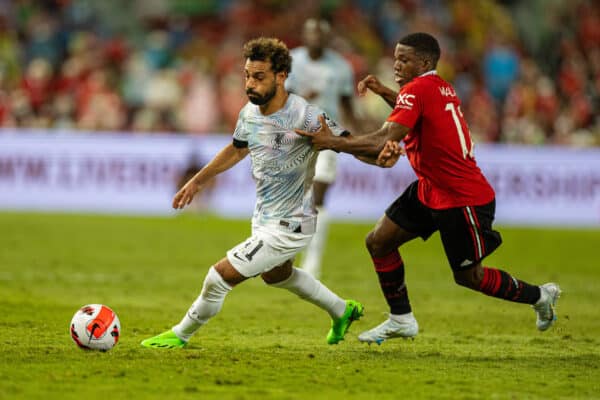 Liverpool's preparations last summer were pretty dismal, underlined by a 4-0 defeat to Man United in their first friendly of the summer in Bangkok – a bizarre decision at the time and even more so with hindsight.
Klopp admitted as much in January, saying:
"Would I do anything differently? I wouldn't go, in the first week, to Asia.
"Not because Asia is not great, but I would go to Asia in the third week, or something like that, but it was not in really in our hands.
"Is that the reason? No, I don't think so. But would it have been better to do it differently? Yes. We learn from these kind of things, but in the end we have to deal with them."
The Reds played six games last summer, including one vs. Strasbourg at Anfield the day after the Community Shield which saw a very youthful side named in a 3-0 defeat.
"When we planned this game then obviously we thought we have to do it for the first-team squad really, for the first-team players because usually today we could have played the striker who didn't start yesterday," Klopp said.
It was a summer beset with injuries and ultimately that carried into the new season.
Let's hope the adjusted approach pays off this season!