If you take into account Premier League form over the last four games, Liverpool sit at the bottom of the table with just a single point.
Jurgen Klopp's side have yet to taste league victory in 2023, their last win in the topflight came against Leicester on December 30 – a game that saw two own goals seal the win.
In the last four matches, the Reds have walked away with just a single point, have scored two goals and conceded nine – the worst form in the division.
Bournemouth share similar woes but a slightly superior goal difference ensures it is Liverpool sitting at the foot of the table when we take into account the last four games.
That's a bitter pill to swallow, but representative of the nature of Liverpool's downturn.
"How can I not be concerned? I cannot sit here and think we did well," Klopp said after the 3-0 defeat at Wolves, the third away league game in a row with three goals conceded.
The manager later went on to say, "we cannot go through that season that nobody did before but how long do we want to suffer?"
The Reds have moved from 9th to 12th to 11th to 12th and finally 20th in the form table over the course of the last 12, ten, eight, six and four match intervals respectively.
Not the direction Liverpool need to be travelling, far from it.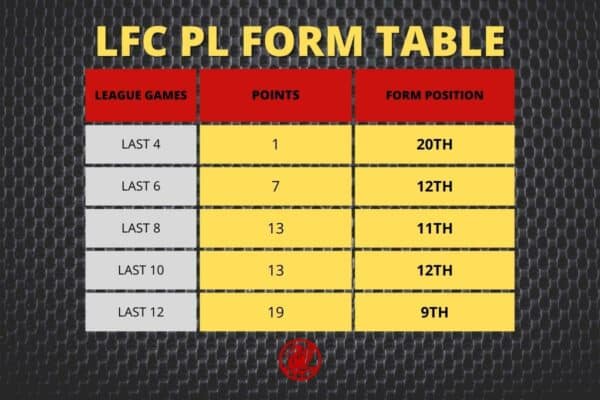 Liverpool's next opponents in Everton and Newcastle over the last four matches sit 16th and 9th in the form table respectively.
The Toffees used their new manager bounce with Sean Dyche to win their first game since October last weekend, while the Magpies have not lost in the league since their trip to Anfield in August.
The Reds have hit bottom, the only direction now is up. Surely. Please.