Liverpool's swift plummet back down to earth this season has already been pulled apart by the seams, but a little perspective can't hurt, writes Alex Malone.
After many weeks of poor results, equally poor performances and a fan and media frenzy, Monday's 2-0 defeat of Everton and the positive overall performance went some way in reassuring the believers and silencing the doubters.
It was becoming so concerning that words like 'Hicks', 'Gillett' and 'Hodgson' were being rolled out with worrying frequency.
There was too much talk of the need for a 'complete rebuild' and outrageous phrases like 'get rid of the lot of them' and 'we're finished' that took up far more social media space than it ever should.
It was NEVER that bad.
Yes, the performances and results were poor, worrying and unacceptable in equal measure, but the underlying and mitigating circumstances seemed to have been lost – or at least overlooked – in the red mist of defeat.
Jurgen Klopp did not become a bad manager overnight and there is no magical number of 'seven years' which means his teams swiftly fall apart and his world-class management ability suddenly evaporates.
Equally, a squad which played every possible game last season, consistently recorded over 90 points in the Premier League, were Champions League finalists and won two trophies last season, did not suddenly become a poor squad overnight.
'Complete rebuild'? Well off the mark
The UK media has gleefully fuelled the narrative that Klopp has taken an ageing squad as far as he can, is under significant pressure from the owners and might not last the season as Liverpool manager. Nonsense, all of it.
If you rise above the hysteria, take a step back from focusing only on recent performances and results and look objectively at the squad, it is apparent how much a 'complete rebuild' is patently unnecessary.
Up front we have a delight of riches most clubs can only dream of. Mo Salah, Bobby Firmino, Darwin Nunez, Cody Gakpo, Diogo Jota and Luis Diaz represent a stunning array of attacking talent. I don't think there is a more varied, exciting and high-quality attacking sextet in the Premier League, if not in all of Europe.
The problem has been that only one 'seasoned' striker, Salah, has been consistently fit. Gakpo has only recently arrived and Nunez has unsurprisingly taken a while to acclimatise, while Bobby, Diaz and Jota have each been medium to long-term absentees.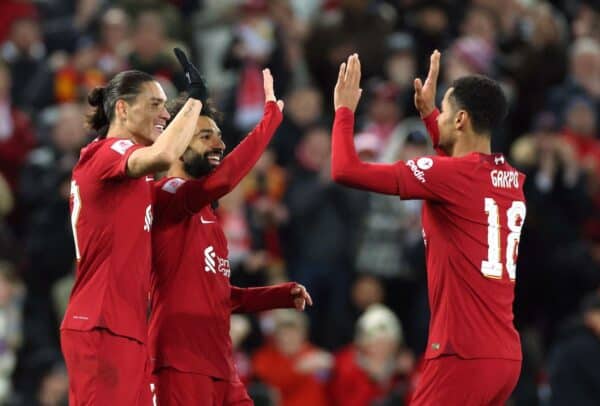 Had all five been fit all season, and with the addition of Gakpo, it's not difficult to imagine the difference it would have made to our attacking prowess, overall team dynamics and points total.
Meanwhile, in defence, we have the world's best goalkeeper and in Caoimhin Kelleher, a backup keeper who would likely be first choice for most Premier League clubs.
We have two full-backs who will go on to be by far the most successful creative right and left backs in English football history.
In central defence, we have the best defender in world football over recent seasons, but we've had recent injuries to Virgil van Dijk and longer-term injuries to Ibrahima Konate. This pairing likely represents our best central defensive partnership yet have rarely featured together this season.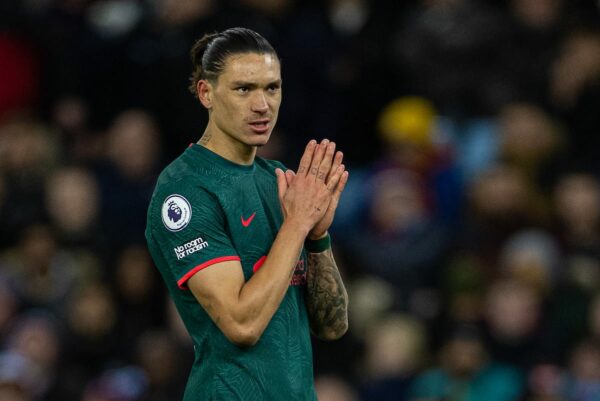 The shorter-term injuries to Joel Matip and Andy Robertson added further disruption to the back line, meaning that the defensive quartet has been chopped and changed all season.
The catalogue of injuries didn't just significantly limit the options, it meant that those who were consistently fit were rarely given a rest, especially up front.
Players are not machines, and with the pace and physicality required in EVERY Premier League game, burnout, or at least a drop off in a player's physical capabilities, is inevitable.
Of course, all teams suffer from injuries, but Liverpool's this season have been at an unprecedented level we're unlikely to experience again.
Midfield the key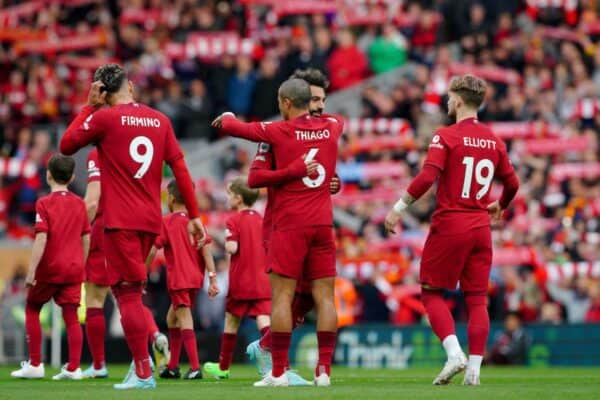 I, along with many others, raised midfield 'strength in depth' as a cause for concern before a ball was kicked this season, and so it has proven.
This is the area of the team – the only area in my view – that needs significant investment and/or a rebuild.
While there may be any number of mitigating circumstances behind the scenes that we as fans aren't privy to, I think it was a major gamble to fail to reinforce the midfield options; one that backfired.
This is not 20/20 hindsight, it is a fact that Naby Keita, Alex Oxlade-Chamberlain and Thiago have been and are injury prone. It was highly likely to the point of inevitability that all three would struggle to play in, or impact, enough games. Such has been the case.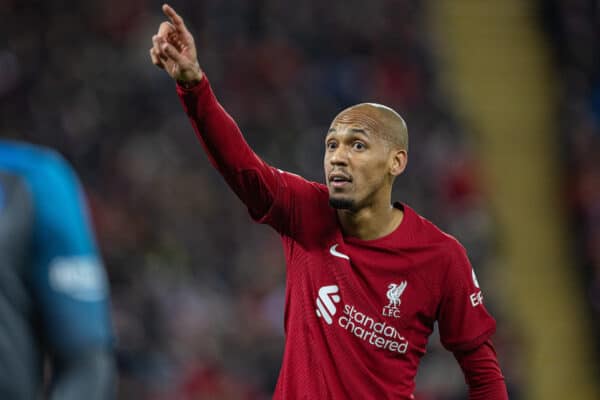 The former two require an extended run of games to come even close to their potential, but it's a catch-22; they never get those runs in the team due to a) injuries, or b) lack of impact when they do get the chance because they're not up to speed.
Thiago on the other hand hardly ever plays more than 20 games a season. It's been a consistent theme throughout his career. His latest long-term injury comes as no surprise.
It has meant that the young guns, Harvey Elliott and Fabio Carvalho have been forced to play more games than they are ready for, often in unfamiliar or unnatural positions.
Jordan Henderson, James Milner and Thiago are each on the wrong side of 30 and no one could have predicted the decline in Fabinho's form. But even had his form been up to the usual standard, the prior points all remain valid.
A third teenager, Stefan Bajcetic, has recently been drafted in with significant success. From being a carefully nurtured player, he's exploded onto the scene with a calmness and assuredness belying his age.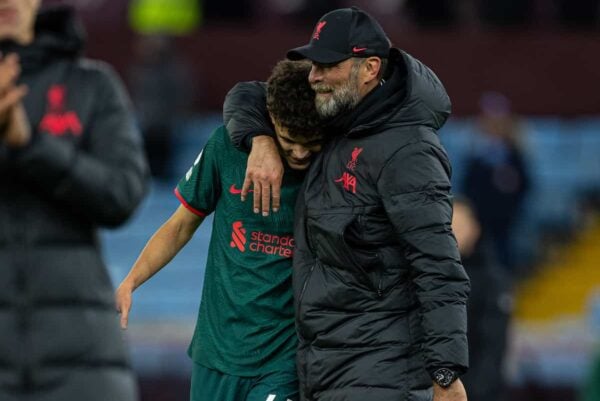 Not only was he Man of the Match in the heat of the Merseyside derby, but he's also been one of the best Liverpool players, if not the best, in each of the last four games.
We didn't get the midfield reinforcement many fans were desperate for in the January transfer window, but the emergence of Bajcetic is as welcome as it is exciting.
Rather than any kind of 'complete rebuild', it is the need for midfield reinforcement that must be the number one priority to get us back to the required level.
The manager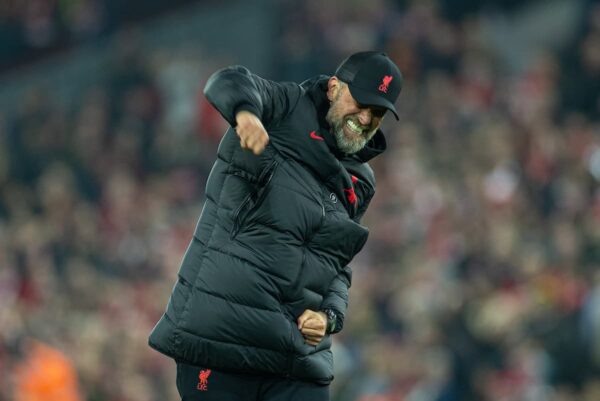 Klopp's win percentage as Liverpool manager is 60.39.
The last time ANY Liverpool manager had a win percentage above 60 percentage was the partnership of William Edward Barclay and John McKenna – from February 1892 to August 1896, around 130 years ago!
For added perspective, the great Bill Shankly had a win percentage of 50.98 and the equally great Bob Paisley's was 57.57 percent. Joe Fagan won a treble and posted a win percentage of 54.2 from his 131 games.
So, while we thoroughly outplayed and outclassed Everton with a much-needed top-class performance, the best news of the week was Klopp's call to arms in the lead-up to the game.
"I will not and I cannot go," said Klopp. "I am responsible and I want to sort it. I am 100 percent committed."
Klopp is a world-class manager who has given us season after season of success. He took a mid-table Liverpool squad and turned it into English, European and World Champions.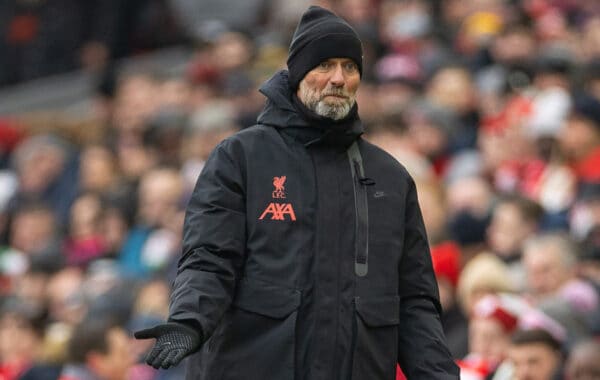 One season of disappointment does NOT nullify over half a decade of excellence.
No manager in Liverpool's history has seen uninterrupted success throughout their entire career. Blips happen and disappointing seasons happen no matter how 'great' the manager.
Imagine if Liverpool's management had been 'trigger happy' back in the '70s. I wonder how long Shankly would have lasted during the trophy-less years? It doesn't bear thinking about does it – nor does the prospect of losing Klopp because of one poor half-season.
Let's hope the Liverpool manager with the highest win percentage in 130 years and the one who has won us 'the lot' in recent years is with us for many more years.
Reasons for optimism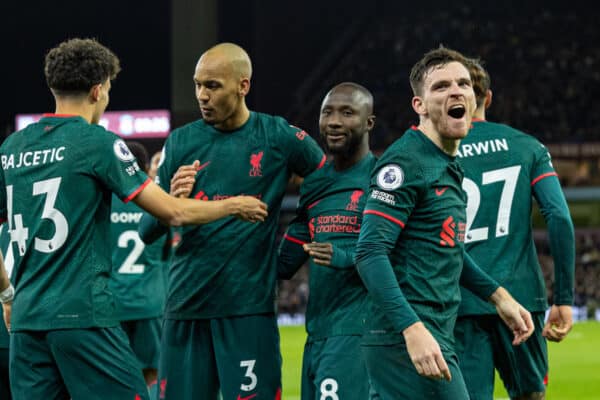 It's worth repeating; Liverpool have had anything but a 'normal' season in terms of injuries. I'm sure the club's medical staff are working hard to understand the underlying reasons why.
But it's also a fact that no other club has played anything like the number of games we have in the last 12 months.
I have to believe that the exertions of last season in combination with a condensed 2022/23 season due to the World up have each played their part.
While I never like to see the Reds knocked out of any competition, the fact that we have no more FA or League Cup games this season might well help us in terms of our league and Champions League ambitions as we move into the latter half of the season.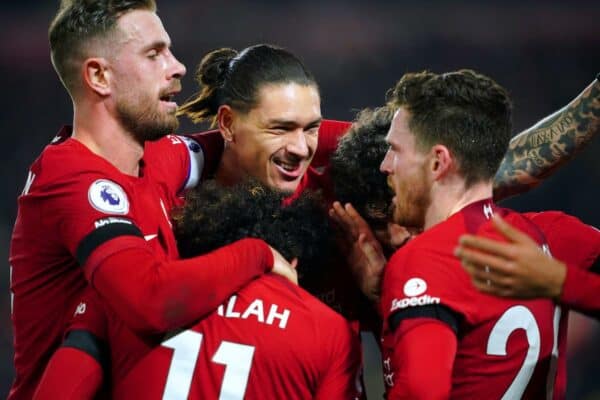 I am under no illusion that one positive performance and result against Everton means that suddenly everything is rosy in the garden. One swallow doesn't make a summer and all that. We are still pretty likely to see a few more ups and downs this season as the new players continue to 'bed in' and other players return to the fold.
But with Nunez and Gakpo both beginning to strut their stuff, Jota, Firmino, Van Dijk and other injured players either back or on their way back, and investment likely once the season is over – Bellingham, one could hope? – I am confidently predicting the season we've experienced so far is nothing more than a blip.
We are Liverpool, and we will, very soon, see the re-emergence of the Reds we know and love.