A new area has been designed at the club's training ground called the "Melwood Arena" with the intention of mirroring "street" football.
A cage pitch was installed at the AXA Training Centre over the summer in an attempt to replicate a 'street' environment in which the players can work on their skills.
The Reds moved from Melwood to their new Kirkby base in 2020, leaving behind the training ground that the club called home for over 70 years.
Speaking on the Training Ground Guru podcast, assistant manager Pepijn Lijnders has revealed that the club have nicknamed the cage the "Melwood Arena" and that it was built for the players to hone their technique in tight spots.
"I asked Jurgen what the budget was last year and said I would love to build a gaiola, which is like a street pitch. Jurgen in these moments is brilliant," Lijnders explained.
"I tell him the idea, 'This is what I want, because of this, this and this.' I really believe that we need to be better in the final third, more creative, [that] in the small space we need to hold the ball better.
"We can develop 100 exercises, but the best thing would be if we create the street. It took a while to build it, it cost a lot of money, but we had a good budget, so that was cool."
Lijnders joined the club as U18s coach in 2014 before being promoted to assistant manager just 12 months later.
He had a brief spell in the Netherlands as manager of NEC Nijmegen, but he re-joined the Reds as Jurgen Klopp's No. 2 after just five months in charge.
Prior to arriving at Liverpool for the first time, the Dutchman worked as a technical coach at Porto, the place to which Lijnders attributes the origins of the "Melwood Arena" concept.
"We designed it ourselves. I asked the players what we should call it [and] we call it the Melwood Arena," he continued.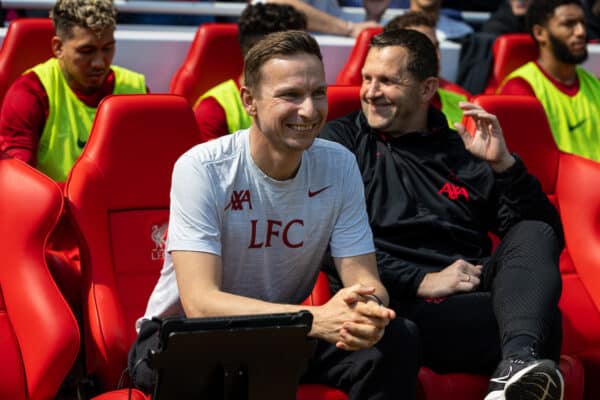 "It comes from Porto, because at Porto we said, 'We love the ones who hate to lose.' The ball is constantly in play and doesn't go out.
"We play 5 v 5 and winner stays on. And what I see in these moments… the creation, the type of goals, it just blows my mind."
Liverpool have a wealth of attacking talent within the squad and it would appear the staff are looking to enhance this further with the latest addition at Kirkby.
The Reds scored 103 goals in all competitions last season and will be hoping to exceed that tally in 2023/24 in their hunt for both domestic and European success.