You sense that, were it up to Mohamed Salah, then he would feature among the starters for every single one of Liverpool's Europa League group-stage games this season.
The Egyptian is by no means a selfish player, but neither is he one to pass up the opportunity to bolster his legacy by adding to an already ludicrous goalscoring tally.
And, if there is one major upside to Liverpool's descent into Europe's second-tier competition for a player of such quality, then it is surely that chances to score are going to prove far easier to come by than they might in the Champions League.
Of course, the crucial factor here is that it is actually the manager who picks the team, and it is not yet clear what tack Jurgen Klopp intends to take in the Europa League this term.
European balancing act
Finishing top of the group rather than qualifying in second place brings the benefit of avoiding two extra games in the knockout round play-offs, so it would make sense to try and secure that position as soon as possible.
Yet this is arguably the strongest overall squad Klopp has ever had at Liverpool and thus, unlike the club's previous stints in the Europa League, it doesn't feel like heavy rotation would actually do much to jeopardise that outcome.
It is also worth considering that the manager will be desperate to ensure he makes full use of the embarrassment of riches at his disposal across the campaign, and that this competition is a prime opportunity to do so.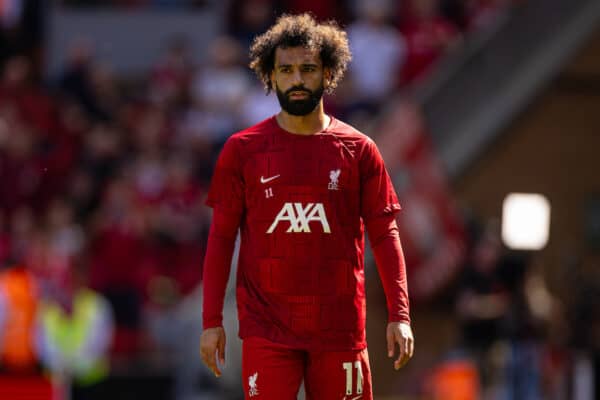 Harvey Elliott is a perfect example of a fringe player who has earned a start off the back of his cameos so far this season but, with so many other midfielders also needing a run-out, might he actually be a candidate to replace Salah on the right against LASK?
What's more, if fresh legs are needed late in the day in Austria, would it not be better to give the talented Ben Doak a run-out rather than Liverpool's experienced No.11?
Admittedly, it is unlikely Salah would take well to being left out of these games given his aforementioned love of both playing and scoring.
However, there is one key consideration that could conspire against his desire to feature in every minute of every game, no matter the competition: namely, the fact that the Africa Cup of Nations takes place in January.
Rest for the greater good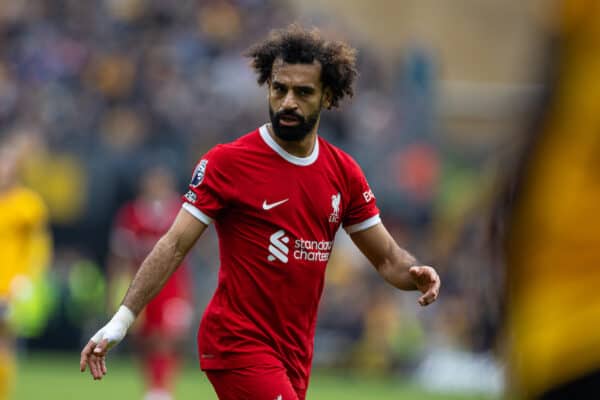 You need only look to the last campaign in which that continental tournament was held – 2021-22 – to see the value of saving Salah from himself in these early stages.
That year, he headed out to Cameroon having started the season by netting a remarkable 23 goals in 26 outings at a rate of 0.88 per game for Liverpool.
Yet, upon returning following a heartbreaking defeat to Sadio Mane's Senegal in the final, the winger managed just eight goals across the remaining 25 fixtures (0.32 per game).
Had fatigue not clearly set in that season, you wonder if the Reds' star man might have ultimately fired them to a quadruple, rather than 'just' the FA Cup and League Cup.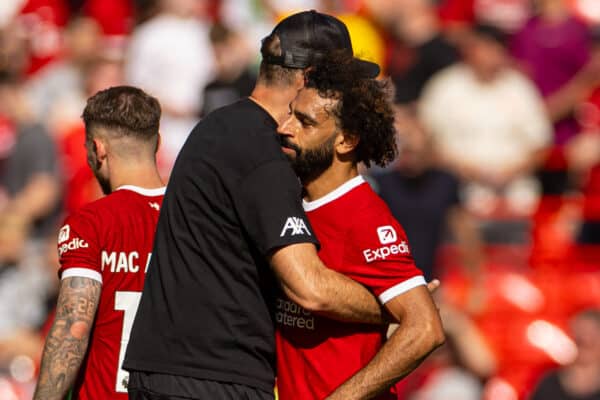 And the importance of guarding against such exhaustion has surely only grown given that Salah is now two years older and has many more miles on the clock.
There is no question that making this case to the player would prove to be a stern test even for a brilliant man manager like Klopp.
But if Liverpool are to achieve their aims this season, then a difficult conversation with Salah over his Europa League role could prove to be one of decisive moments.