The press conference, colloquially known as a 'presser', has become a staple of football coverage in the media. But how do they actually work?
Press conferences are standard practice and often mandatory across football, with managers and sometimes players sitting in front of the media to discuss various topics.
For Liverpool, this means a pre- and post-match press conference before every game, across the Premier League, Champions League, FA Cup and Carabao Cup.
Typically, these will take place at the AXA Training Centre and be taken by Klopp himself, but for the Champions League, press conferences are held either at Anfield or the away stadium, with the manager joined by a player.
For the Carabao Cup, Klopp's assistant Pepijn Lijnders fills in, providing another perspective on the upcoming game.
But how do they work – and what is an embargoed section?
Why do Liverpool hold press conferences?
Though they may seem increasingly archaic in the age of social media and lightning-quick news cycles, press conferences give a direct opportunity for journalists to speak to Klopp.
It serves as either a preview for a game or an immediate debrief after one.
How do they work?
Traditionally, journalists will attend the training ground and often discuss various topics between themselves before Klopp and his press officer sit down and take questions.
Currently, Klopp's press officer is former Times journalist and fan liaison Tony Barrett, but fans have also heard the voices of Matt McCann and Joe Questier alongside the manager.
The press officer will lead the press conference, usually allowing a broadcast journalist – for example from Sky Sports – to begin proceedings with a question or two.
Journalists in attendance are able to submit themselves for questions throughout, with Klopp routinely engaging in a back-and-forth.
The ability to watch press conferences has grown in recent years, with This Is Anfield broadcasting the open section live before every game on YouTube, but previously information would have been reported either in print or online first.
Which journalists can attend?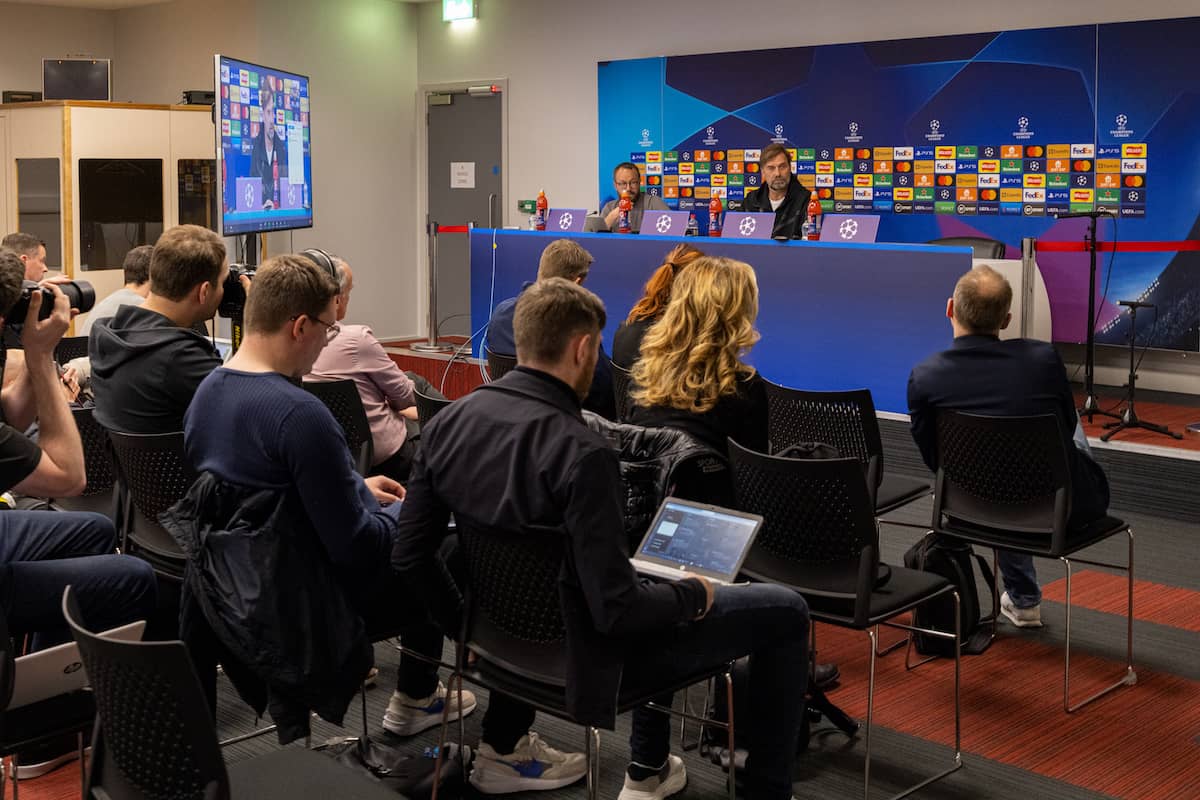 Journalists from various media outlets and publications, accredited through DataCo, are able to apply for attendance to a press conference, and regular watchers will notice similar names and voices popping up.
Normally, these would be Merseyside journalists writing for national newspapers, such as the Times' Paul Joyce and the Telegraph's Chris Bascombe, but regional publications such as the Liverpool Echo are also represented.
Digital journalists are also permitted access, with those including The Athletic's James Pearce.
What does Jurgen Klopp think about them?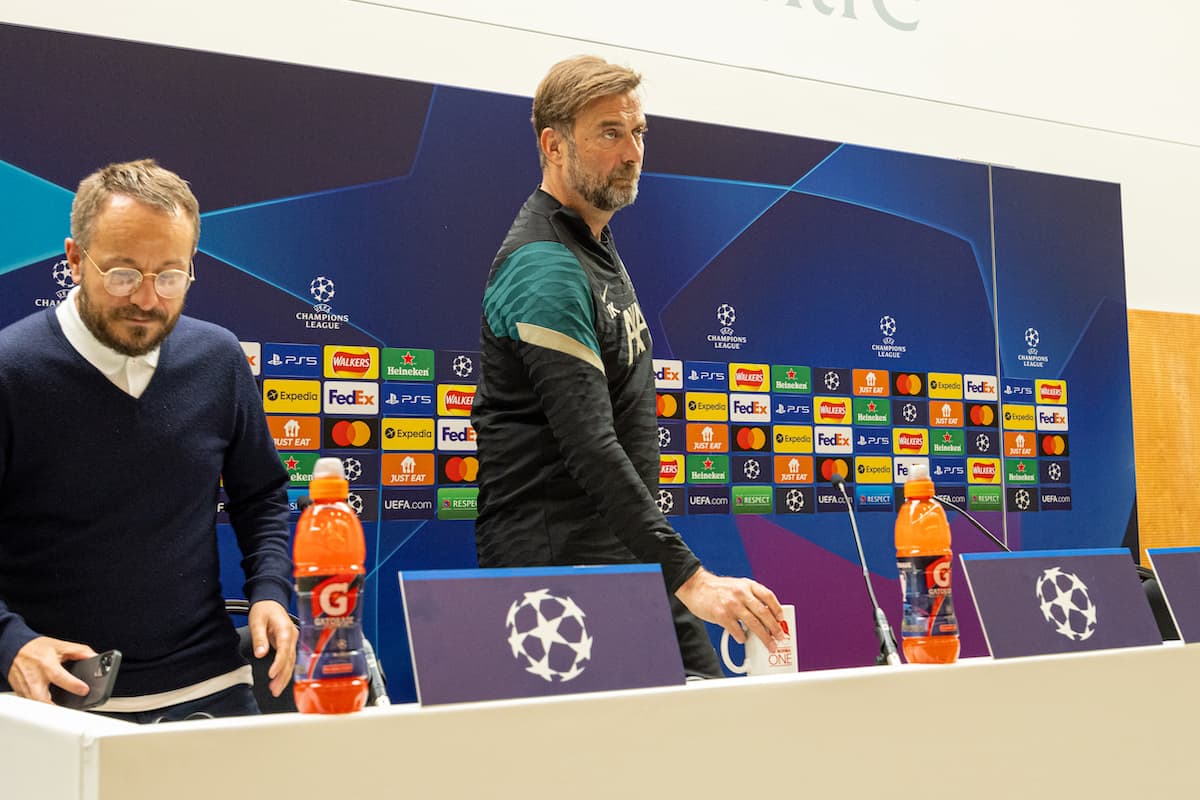 His mood during press conferences can swing from question to question, but in general, the manager isn't a fan, as he told Michael Calvin's Football People podcast:
"Tony [Barrett] tries to prepare me for it, give me hints here and there about what could come, but I don't think about it for a second before.

"I don't believe in press conferences, let me say it like this.

"You cannot win a game there. It might be possible to lose it, if you say the completely wrong things, that might be possible!

"But I don't think they're massively important, to be honest, and I don't have time to think about what I could say before, or what I said after, and worry about it."
And finally, what is an embargo?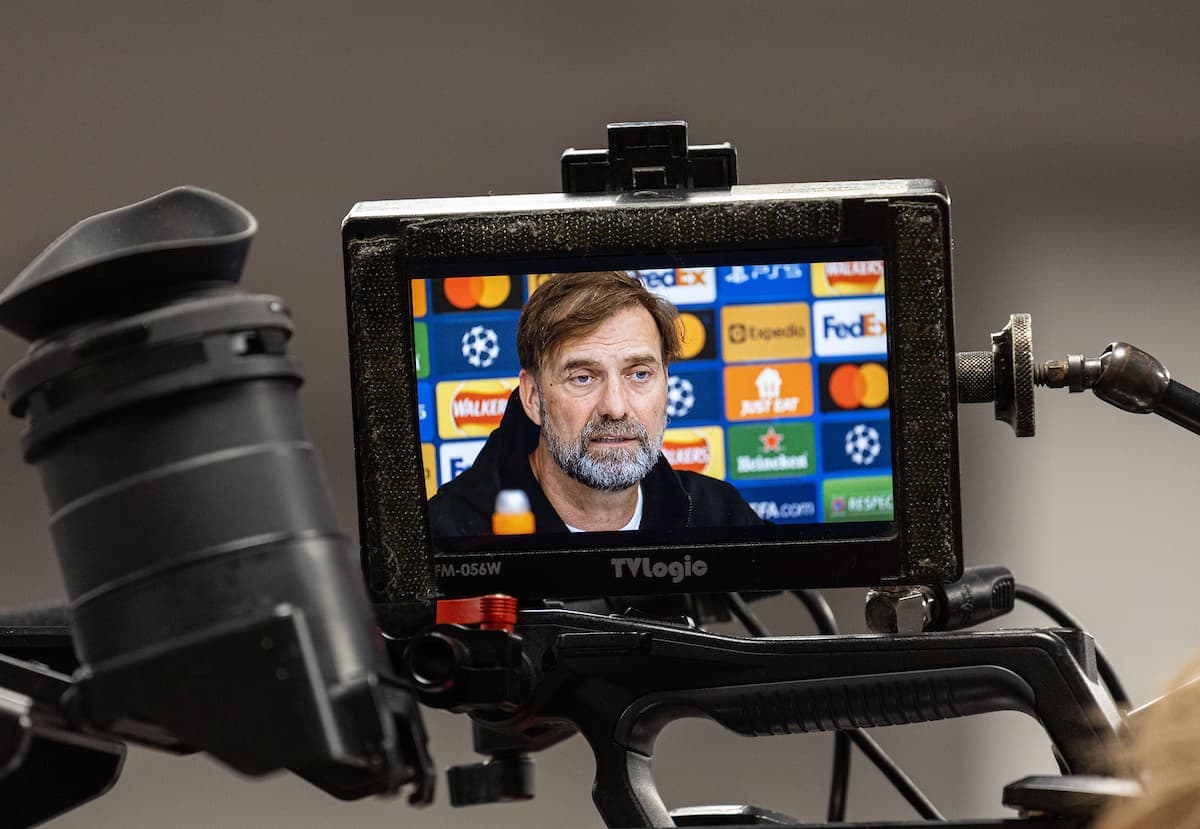 It is not rare now to see various Twitter accounts making vague references to 'interesting embargo quotes from Klopp' after a press conference.
In basic terms, an embargo is an agreement among journalists to withhold publishing certain information before a particular time.
For press conferences, this typically comes in the form of quotes or stories being published online at 10.30pm on a given night and in newspapers the following day.
In years gone by, the manager would hold a separate breakout interview with select journalists, but now Klopp holds the second and sometimes third parts of his press conference in the same room immediately after the 'open' section.
At times, Klopp will then speak more openly on certain topics such as injuries, but often it simply serves as an extension of the normal pre-match press conference.
So when you spot claims of 'interesting embargo quotes' on social media, don't bother waiting around for any major transfer news or the like!