Peter Crouch scored 221 goals in his career, but there's only one that's immortalised with a photo on the wall in his home office – that bicycle kick against Galatasaray in the Champions League.
"It was Kop end, at Anfield, Champions League night, under the lights. It was the perfect goal really," smiles Crouch.
"In the Premier League I scored for Stoke [against Man City], it was a belter as well, and I scored another scissor kick for Liverpool against Bolton. But that [vs. Galatasaray] would be my favourite goal."
"There's only one goal that I have framed on the wall," he adds, panning his camera phone around to show This Is Anfield.
To score one goal of such technique, at the Kop end, is some feat, but to do it twice inside four months surely required a lot of practice – so did he have Steve Finnan out on the right wing clipping balls in after training at Melwood for hours?
"I just used to love volleying as a kid!" he laughs. "I remember Gianluca Vialli was one of my heroes, scoring lots of acrobatic goals, and I just constantly practiced a volley in every different way.
"And obviously, the bicycle kick was one of those I used to practice. And when you're sort of 10, 11, 12, 13, you know, it doesn't hurt as much as if I tried it now!
"I just loved doing it and I my eyes actually used to light up when the ball was kind of dinked behind me a little bit. I thought, 'I can try it, I can do it, I can do it!'. And when they come off, it is something special."
The quality of the strike, the technique involved – just look at Luis Garcia's reaction as it goes in! "I love it," says Crouch, who has clearly watched the goal back plenty of times himself!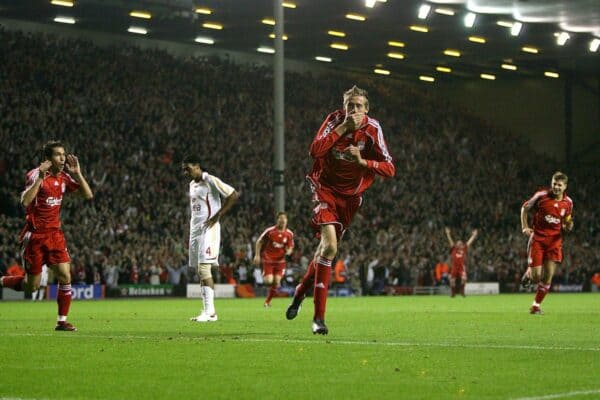 "F**king hell Rafa!"
Crouch scored 42 times for Liverpool, nine of them in the Champions League – and seven of those in the 2006/07 season that ended with defeat to AC Milan in the final in Athens.
"I had one eye on the Golden Boot," recalls the likeable forward, who now appears regularly on our screens as a pundit on TNT Sports.
"Genuinely, that's how I was thinking. I was like, Drogba yeah, I think he was around that. And then I remember at the time I was like, 'yeah, I've got this, I'll get a couple in the final and I'll win this'."
Kaka ended up taking both the Golden Boot (with 10 goals) and the Champions League winner's medal.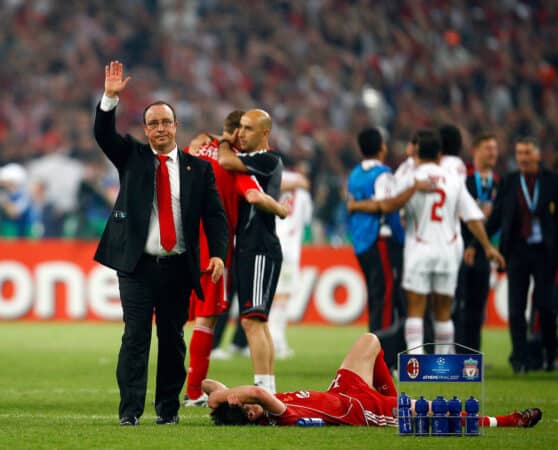 "I'll be honest with you, I don't even know where it is [the runners-up medal]," admits Crouch, who, like a competitive sportsman calls it a "loser's medal" – "I better look for that actually!"
Surely that would be the one result in his career, if he could change one, that he would?
"Having lost the final, it doesn't resonate," admits Crouch, who was named as a sub by Rafa Benitez, only coming on for the final 12 minutes.
"That is one result that I would change.
"I actually saw Rafa, believe it or not, not long ago in London and he actually said to me, 'there's one thing I would change with you'. And I was like, 'oh yeah, this is it, Champions League final 2007′.
"And he went 'the World Club Championship in Japan, I should've played you in the final'. I was like 'f**king hell! Cheers Rafa!'."
Despite that, Crouch has huge admiration for Benitez – the man who signed him from Southampton in the summer after the Istanbul final.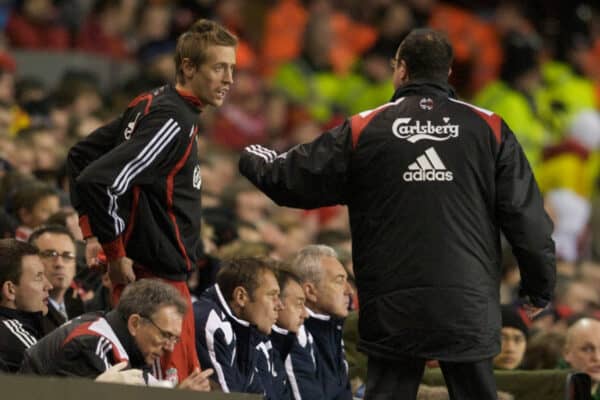 "I have a great relationship with Rafa and yeah, there were times where we disagreed, I'm not going to lie, on certain things, but I still have a huge amount of admiration for him.
"Rafa will always being remembered for what he achieved at Liverpool.
"He signed me for what I see is the greatest club in the world and I had the opportunity to play for Liverpool.
"Not many people would have taken a chance on me, and obviously stuck by me as well at times, you know, hopefully I repaid that a little bit at the end."
"I never touched it again!"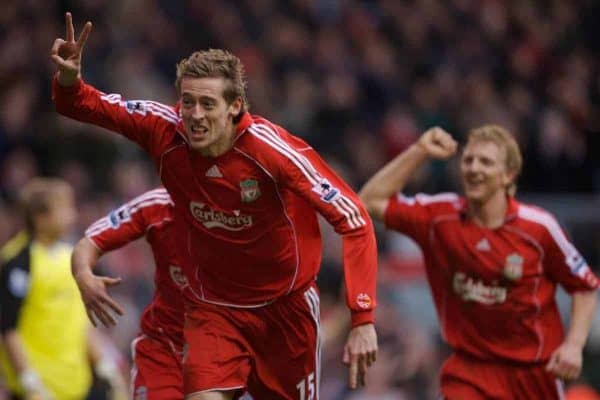 When Crouch made the £7 million move to Merseyside from Southampton it was an emotional moment for the player, who went to look around Melwood with his dad.
"It was just after Istanbul. When you're signing for the club like Liverpool, it's just when you walk around Anfield and see the history behind there."
Crouch had never actually played at Anfield before his home debut, which was against FBK Kaunas in a Champions League qualifier.
"God, is that true? Yeah, I didn't know that," he remarks to This Is Anfield. "That's a monster stat!
"Playing at Anfield was special and I think the first time you do it as a Liverpool player was incredible. I touched the This Is Anfield sign as I walked out, didn't play that well so I never touched it again the whole time I was there!"
Having previously played at QPR, Portsmouth, Aston Villa and Southampton, Crouch understood the huge step his career was taking moving to the European Champions.
He had familiar faces on his first day at Melwood in Steven Gerrard and Jamie Carragher from his England duties, but there was another who really surprised him.
"Alonso was probably where I really stood up and took notice," Crouch revealed.
"I'd trained with with Gerrard and Carragher with England just before, not for long, but I mean obviously their levels were so high.
"But if you say about surprised me certainly as a player, I think Xabi Alonso. I kind of always knew he was a class act but I didn't realise how much of a leader he was and how commanding he was in the dressing room. He was a big part of what we did in the end.
"A fantastic player. He was one player that shocked me."
Crouch spent three seasons at Liverpool, making 134 appearances, but eventually made the tough decision to leave the summer after Fernando Torres had arrived.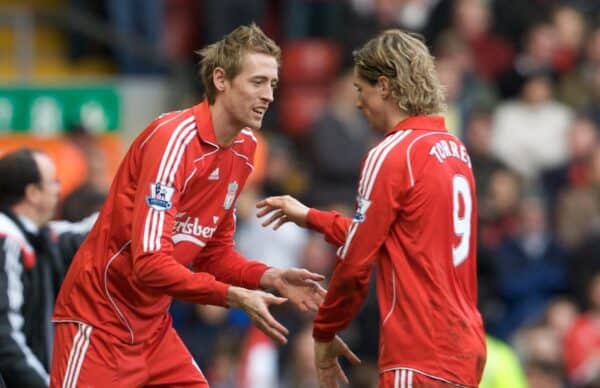 "Whenever you leave Liverpool, it's going to be kind of a step down really in some ways, because I think it's one of the best clubs in the world, if not the best," he surmises.
He left Anfield with an FA Cup winner's medal and went on to enjoy success at Portsmouth, Tottenham and Stoke, playing in two World Cups with England.
What's clear is his admiration for Liverpool as a club and how he grasped the opportunity of playing for what he calls the "greatest club in the world."
---
* Peter Crouch was speaking ahead of Wolves v Liverpool, which will be shown live and exclusive on TNT Sports 1 from 11am on Saturday, 16th September.
TNT Sports is available through its streaming destination discovery+ and across all major TV platforms. This isn't Just Sport, This is Everything. For more info visit: tntsports.co.uk/football