It has been a season to forget for Fabinho, who has now lost his place in the side to a teenager. But could a change of position reignite his form?
Liverpool's defence suffered another setback last time out. The abject 3-0 defeat to Wolves came courtesy of two poorly defended situations in the opening 12 minutes.
Despite taking some recent positive steps off the ball, Liverpool are now back to square one.
While first-choice centre-back pair Virgil van Dijk and Ibrahima Konate have both been sidelined through injury, another cornerstone of the defence remains on the bench.
Fabinho's poor form has seen him dropped in favour of 18-year-old Stefan Bajcetic.
Where Liverpool's No. 6 was once integral to his side's fortunes, leaving him out is now considered the best course of action.
Injuries at the back led to Joe Gomez and Joel Matip starting vs. Wolves, and both struggled.
While Nat Phillips and Rhys Williams are back in the squad as cover, and Van Dijk is now nearing his return, Fabinho has deputised capably at centre-back in the past.
Both he and his team are badly out of form, so would returning the Brazilian to the back line get them both closer to their best?
Defending forwards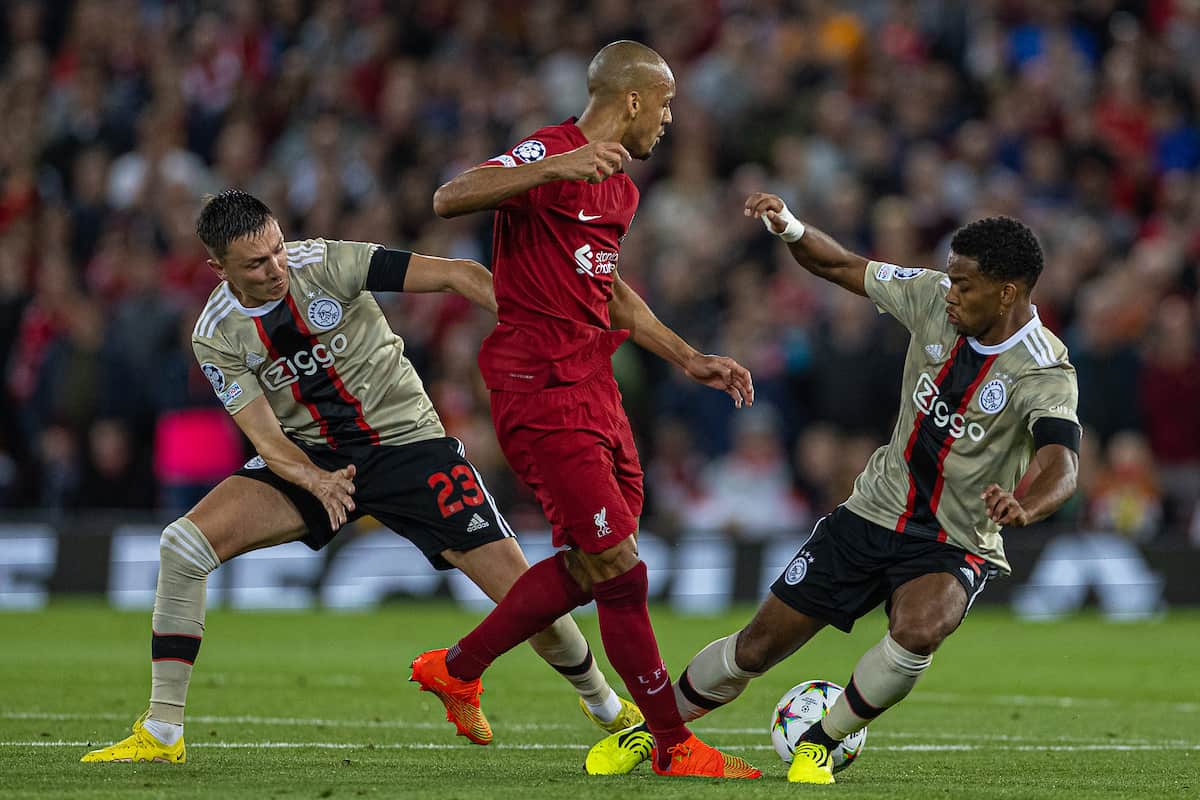 Appearing on Monday Night Football with Jamie Carragher, Rafa Benitez was asked when he realised it was a mistake to use Steven Gerrard and Xabi Alonso as a double pivot for the 2005 Champions League final.
Rafa's response gave excellent insight into the nuances of coaching at the elite level:
"It's easy to say I made a mistake. Playing Xabi Alonso and [Steven] Gerrard is not a mistake.

"The mistake is the characteristics of the players. [Gerrard] was going forward and then [Kaka] was coming into this space."
Put simply, you can develop any brilliant tactical plan you want. If you put a player in a position that doesn't suit their characteristics, it won't work.
So who is Fabinho the player, and how is he best deployed?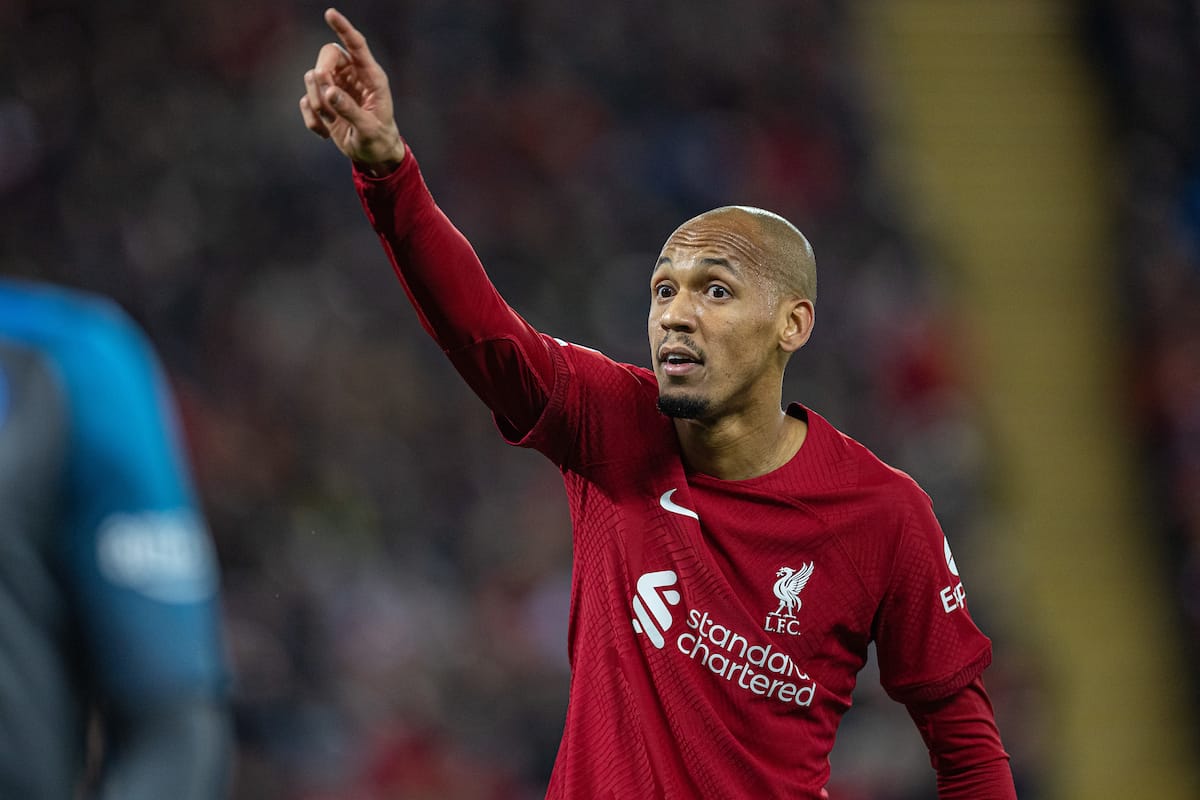 Many have heard the Pep Lijnders nickname for Fabinho: the Lighthouse. A calm head in Liverpool's organised chaos when playing as a No. 6.
But the beginning of the original quote is interesting: "His impulse of defending forward is absolutely of the highest level."
Fabinho at his best can dominate in one-versus-one situations, because he's cool enough to read the situation and has the intensity to win the battle once he does engage.
These traits also have a home in the back line.
Van Dijk has been lauded for his ability to keep clean sheets without actually breaking a sweat, but typically he will step up and win the ball past the halfway line if he thinks it's possible, knowing his partner can sweep up behind if it goes wrong.
Here's an example from the 4-0 win over Barcelona: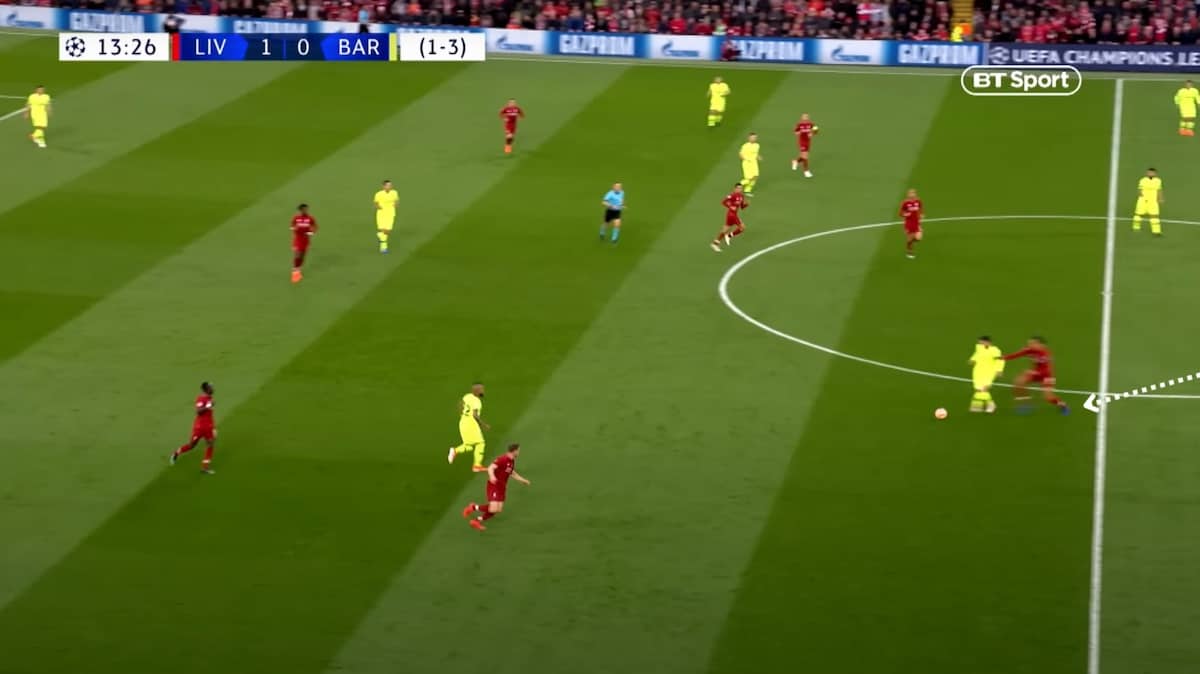 Fabinho's natural inclination to defend forward maps well onto this, especially given that his likely partners – Gomez or Matip – are used to dropping in behind Van Dijk in this scenario.
However, the shadow side of this trait is that he can commit clumsy fouls.
It's telling that, at a time when the whole team is struggling with intensity, Fabinho is committing overly aggressive tackles like his awful foul on Brighton's Evan Ferguson.
Fabinho vs. Crystal Palace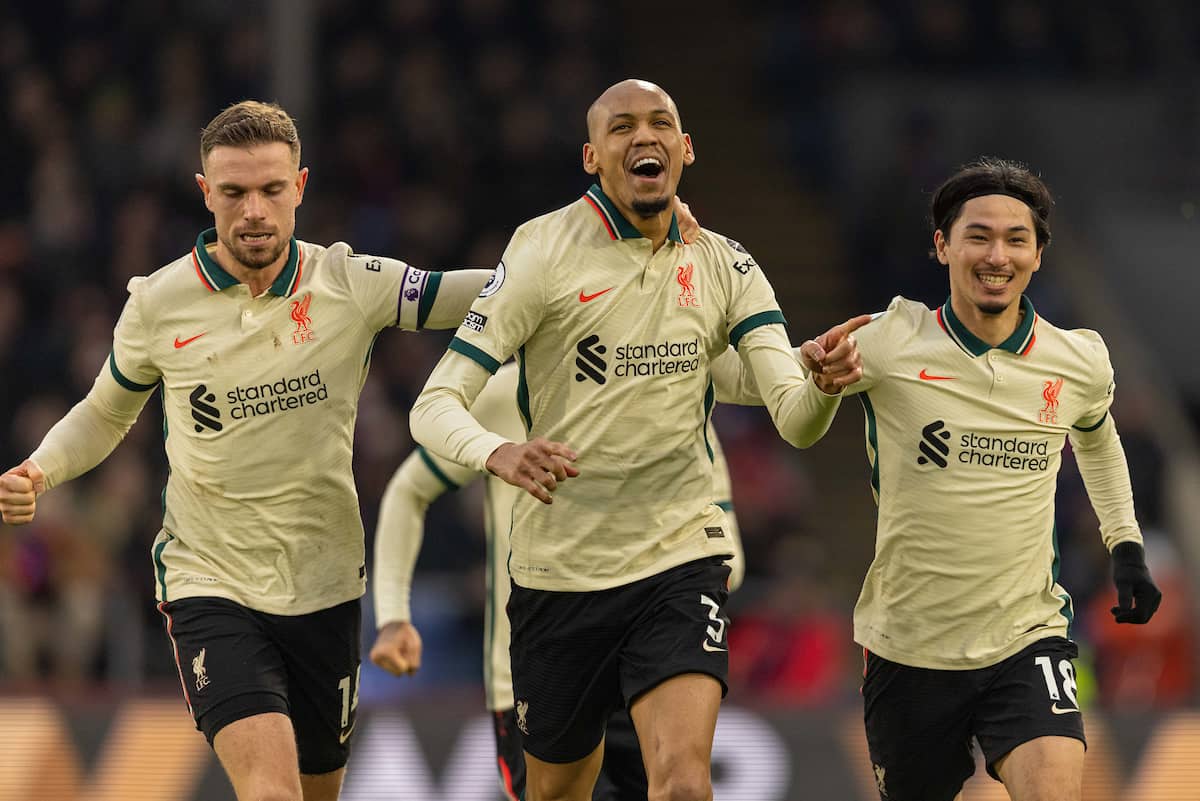 "Most goals start with winning a one-versus-one situation."

– Pep Lijnders
With Liverpool due to play Crystal Palace soon in the league, I pulled Fabinho's statistics from some recent clashes with the Eagles: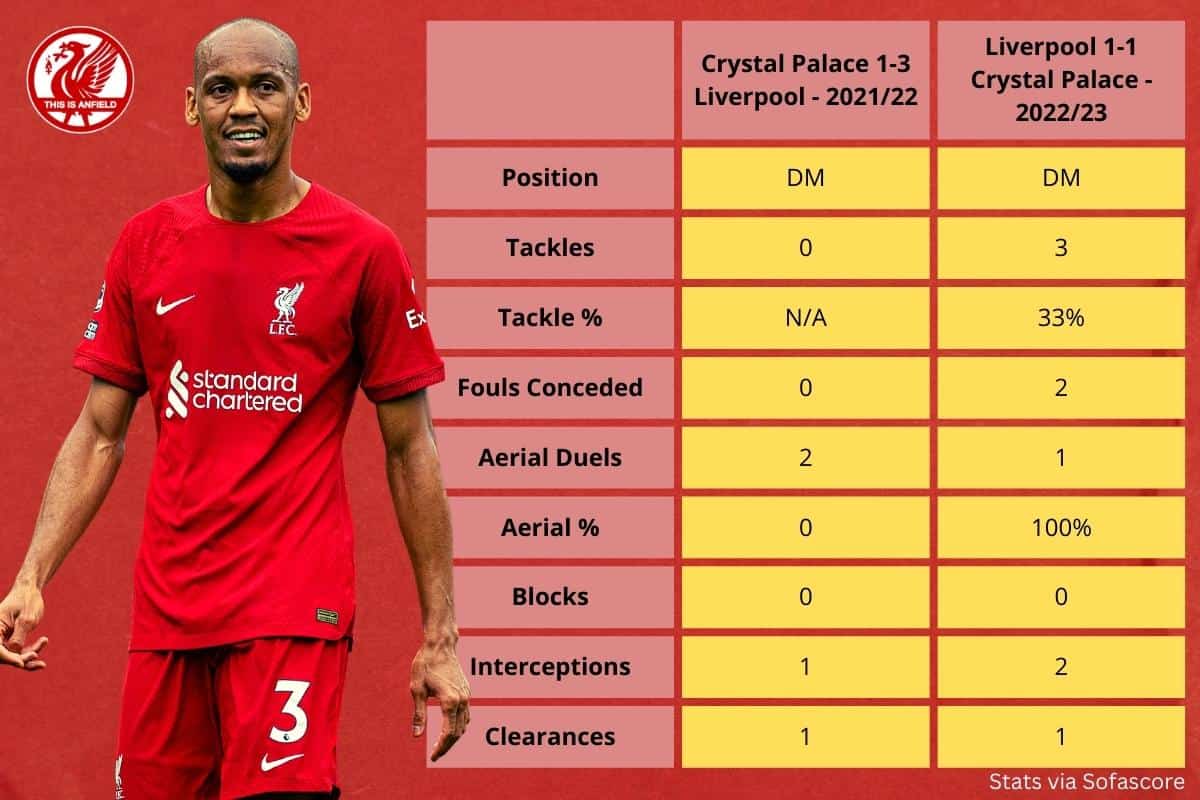 The earlier game looks sparse in the data, yet it's by far the superior performance.
Playing at the base of midfield in this side means screening the two central defenders, reading the game to know where and when to be.
Occasionally you must intervene, and do so with quality and aggression – the internal language for this is 'legal aggression', though tactical fouls are sometimes necessary, too.
The more involved performance shows how important his role is in the side maintaining control.
In a counter-pressing team, winning the ball quickly prevents counter-attacks and creates goalscoring opportunities.
Here, we look at how Fabinho's lost duel turned a promising Liverpool counter-press into a Palace goal: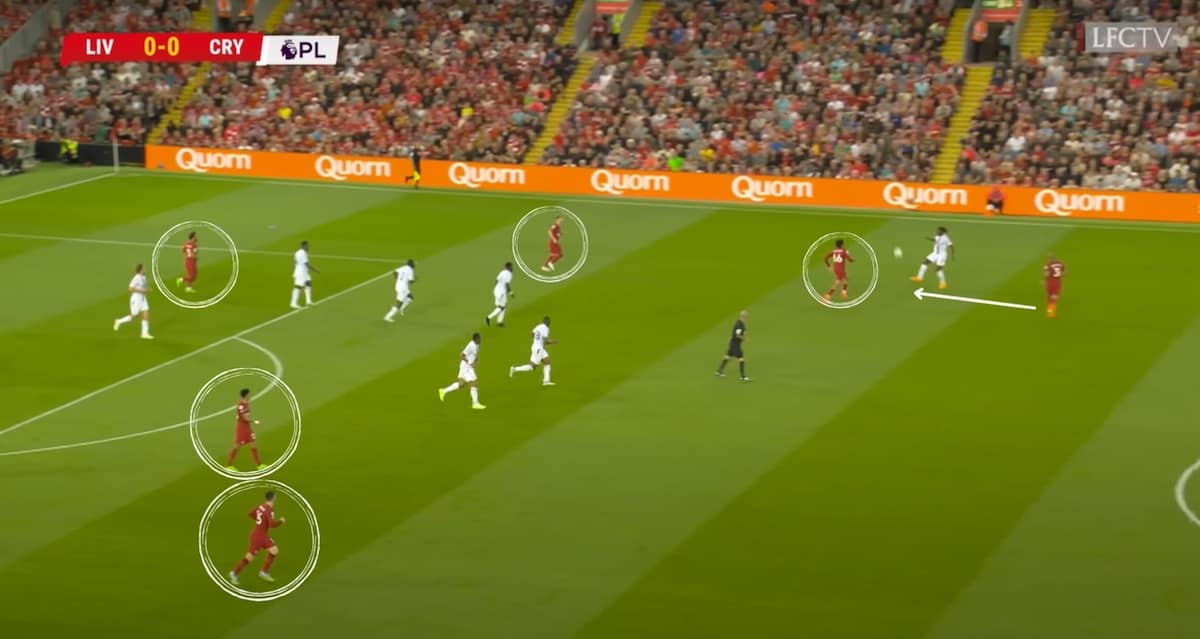 With Palace looking to break on the counter, Trent Alexander-Arnold is on hand to counter-press.
Fabinho is already in place to double up on the press, stop the counter and sustain the attack.
There are good attacking numbers to receive the ball once it's been won back.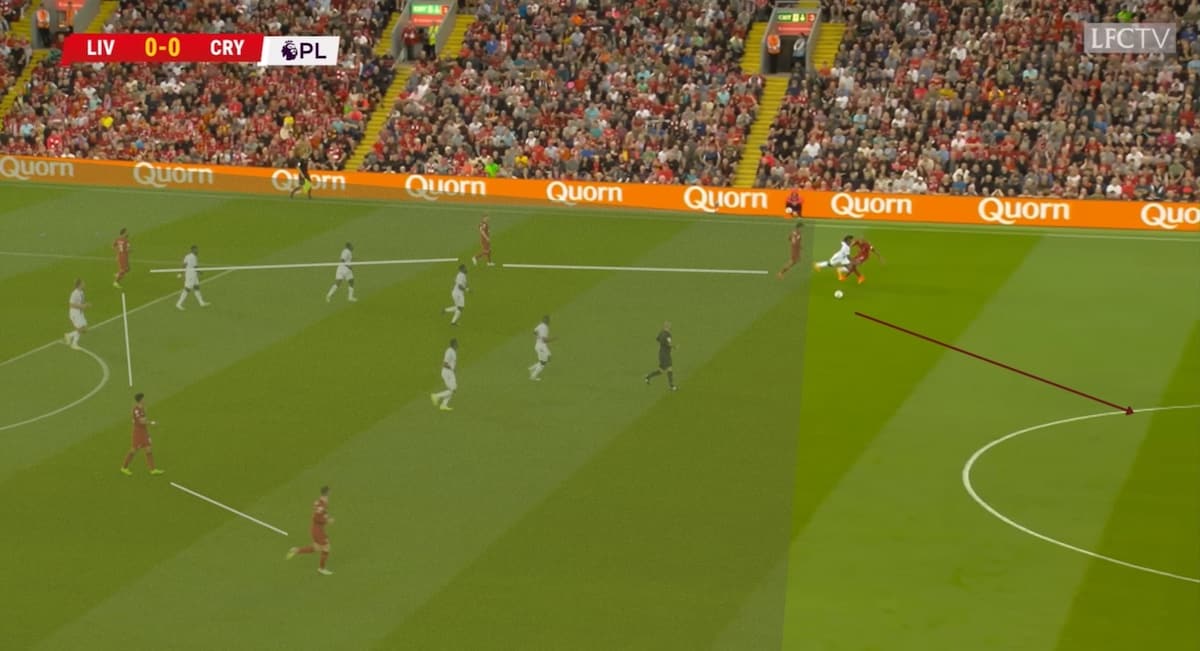 But Fabinho mistimes his challenge, Eberechi Eze skips away and the space opens up in front of him.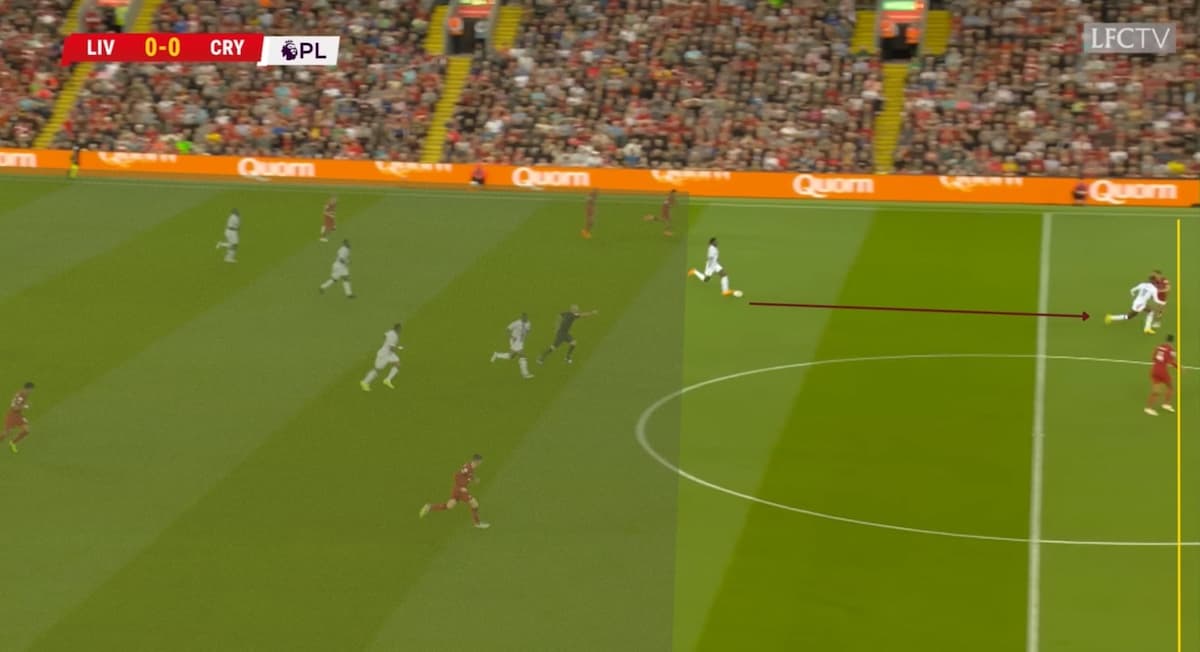 While most of Liverpool's team is now helpless behind the ball (blurred area), Eze is free to play in Wilfried Zaha, who beats the offside trap and scores.
One oft-repeated view during the 2020/21 season was that Liverpool should explore cloning Fabinho, as they missed him in midfield when he played centre-back.
With Bajcetic stepping into midfield and forcing Fabinho out of the team, this is no longer a concern. So how does he compare as a defender?
Palace were playing a more direct style under previous manager Roy Hodgson in the game analysed above, which shows particularly in the volume of aerial duels.
But the increased workload didn't deter the Brazilian.
The increased number of interceptions and clearances, plus an excellent tackle success rate, show he was integral to the clean sheet on a day when the forwards took all the plaudits.
One important note is that the threshold for 'legal aggression' is different when playing in the last line.
Where a mistimed challenge is punished with a foul or maybe a booking in midfield, as a defender it can lead to a potential penalty or red card – such as the penalty Fabinho conceded vs. Sheffield United in 2020.
Ajax: A case study
The strengths and flaws of Fabinho at centre-back were on full display in the 1-0 win over Ajax in 2020.
Again partnering Gomez, the Brazilian was clearly still getting a feel for the last line – when to push up for offside, when to drop off and how to anticipate danger.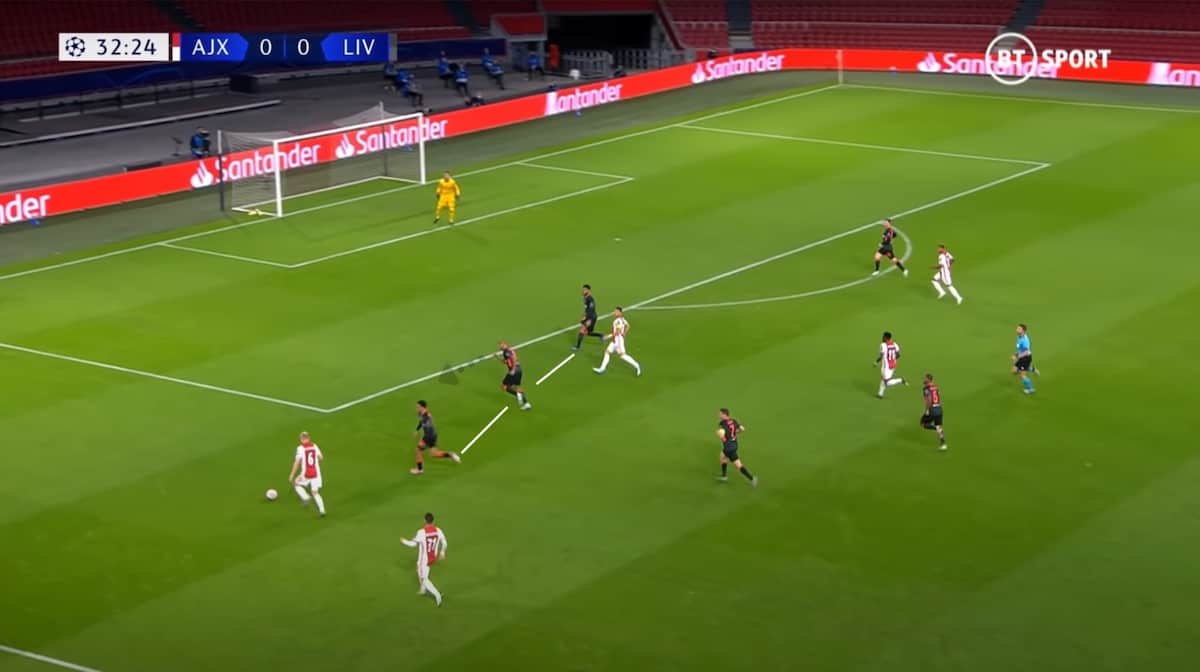 Liverpool's defence are nicely compact. Fabinho has his eye on the ball, with Davy Klaassen (6) in space to pick a pass.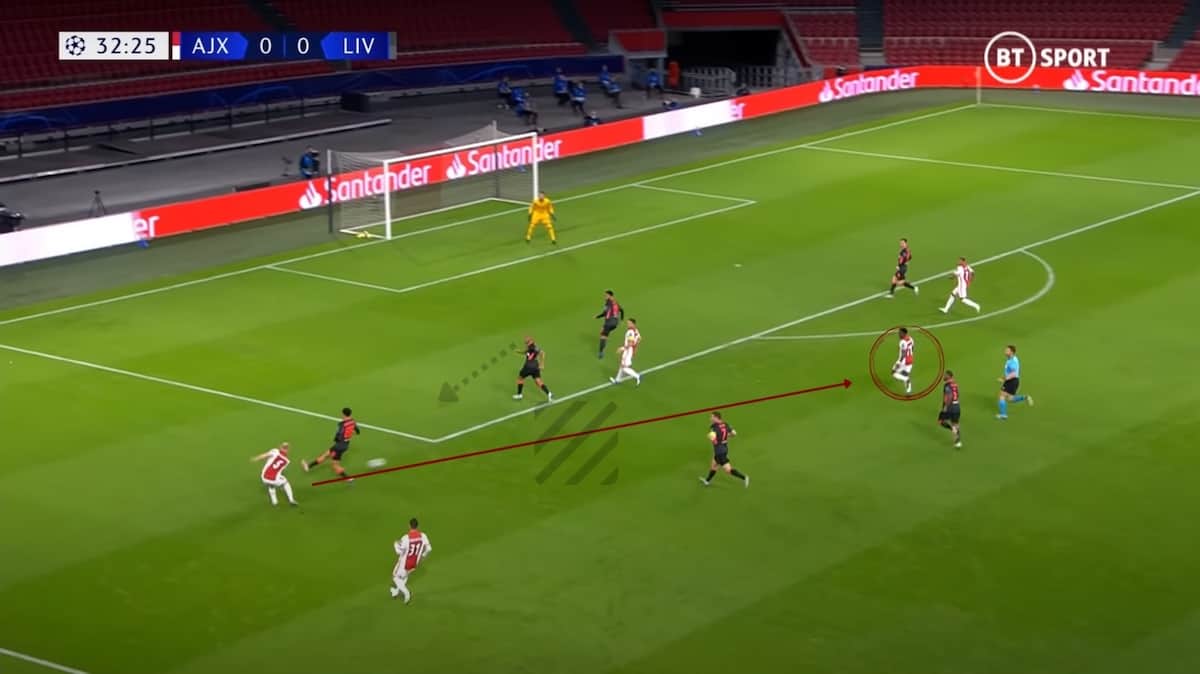 However, with his eyes fixed on Klaassen, Fabinho drops too deep, leaving a gap (shaded area) for the ball to reach Quincy Promes (11). Ajax work it wide.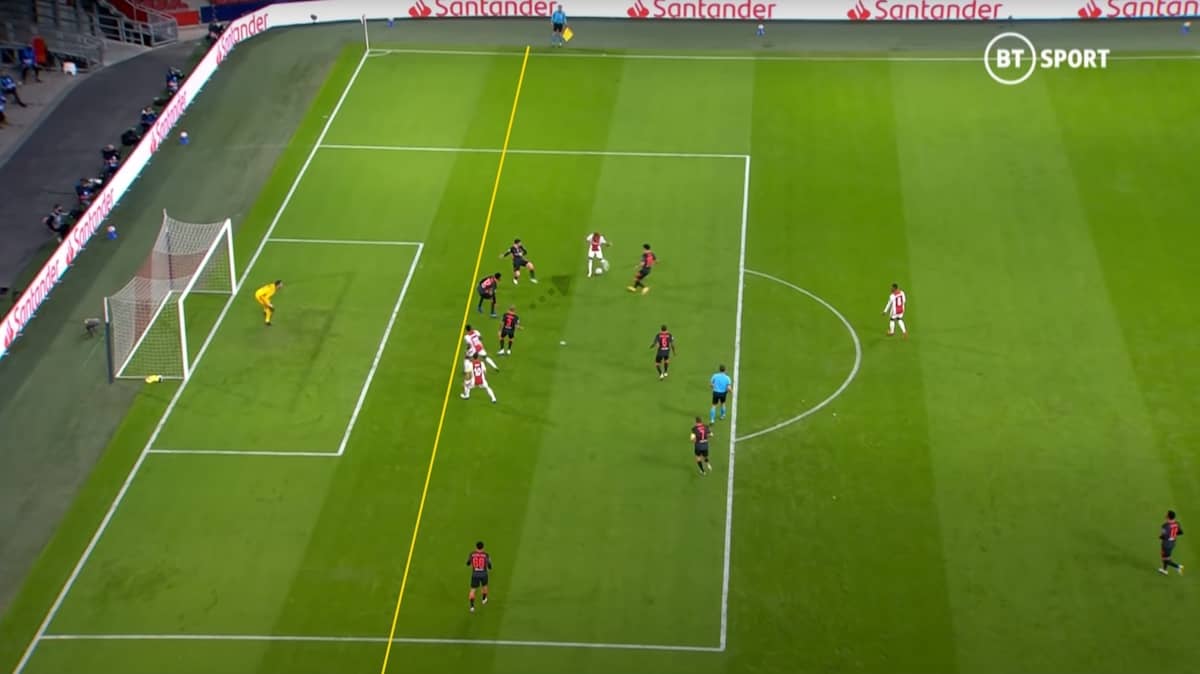 Fabinho tracks back with his fellow defenders, but continues ball-watching. He steps up to play offside, unaware of the two Ajax players over his shoulder being played onside by Gomez.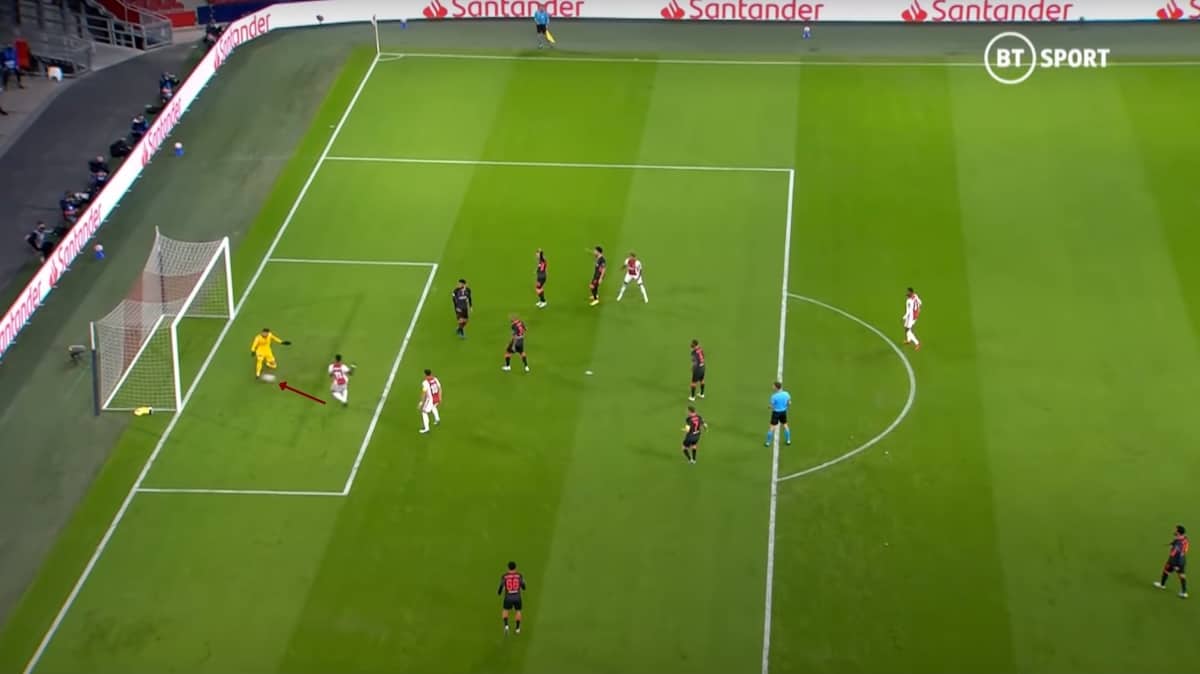 Promes gets the shot off, but goalkeeper Adrian makes the save.
Fabinho's front-footed approach also got him into trouble when he stepped into a situation that wasn't his responsibility.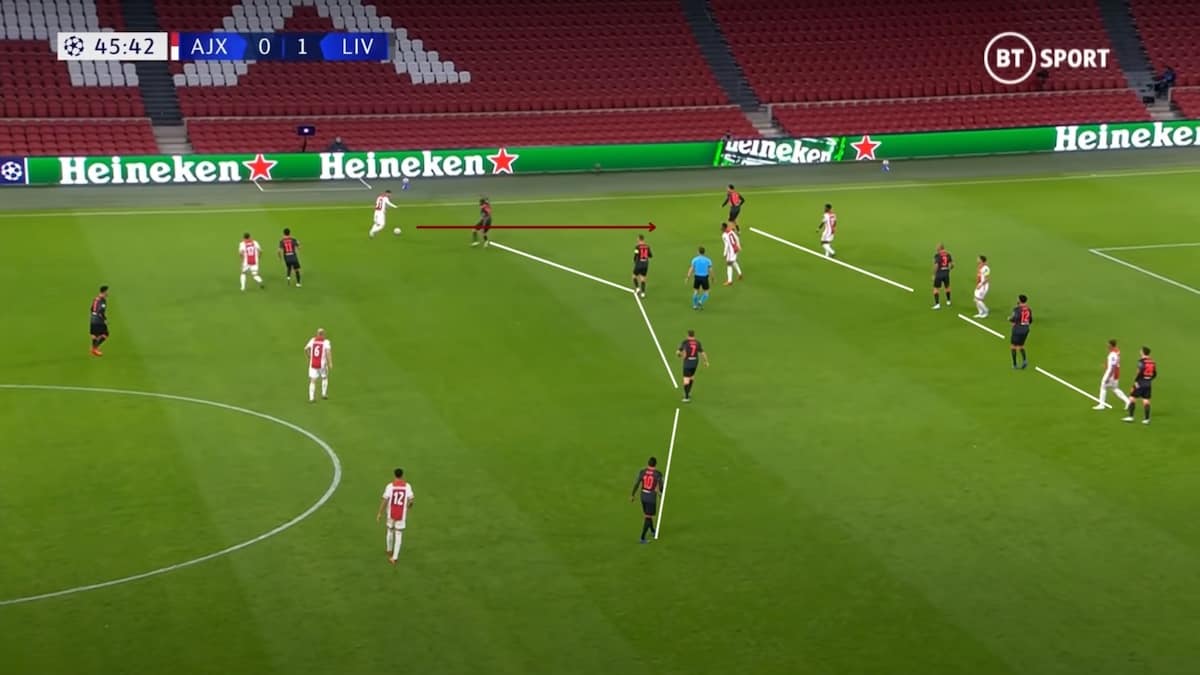 Here, Liverpool are in a nice compact shape. Unable to play through the lines, Ajax seek to play around the side.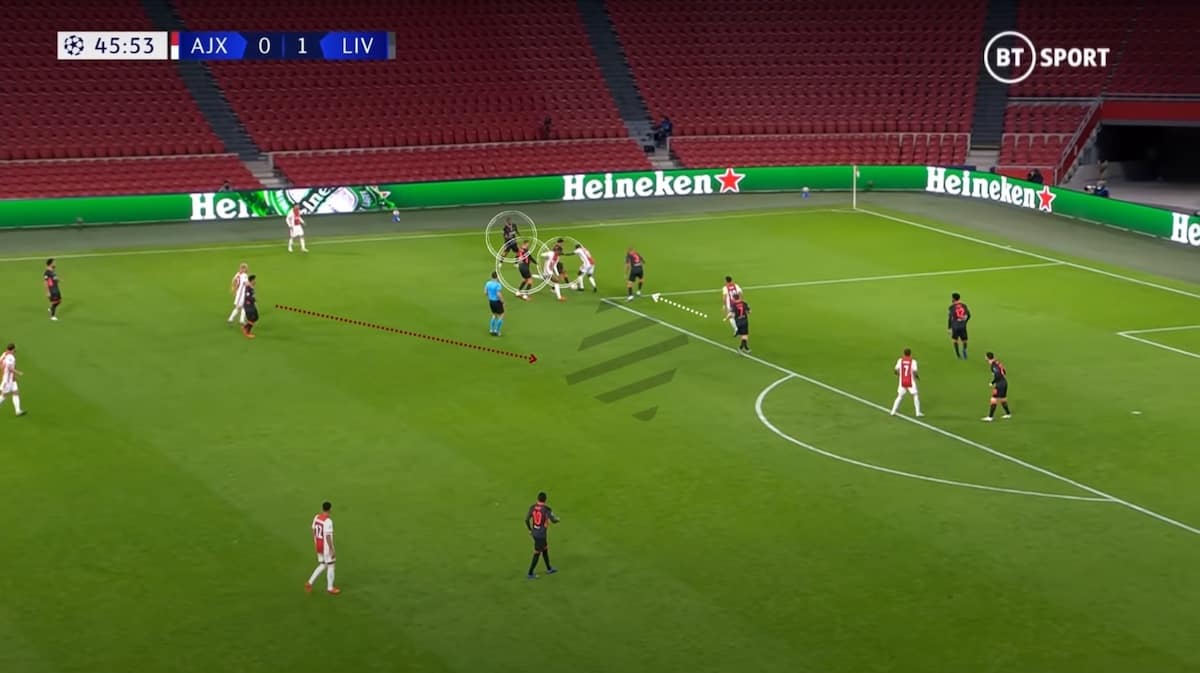 A scrap over the ball ensues, but despite Liverpool already having a three-on-two advantage Fabinho tries to get involved.
This opens up space (shaded area) for Ajax to exploit should they emerge with the ball…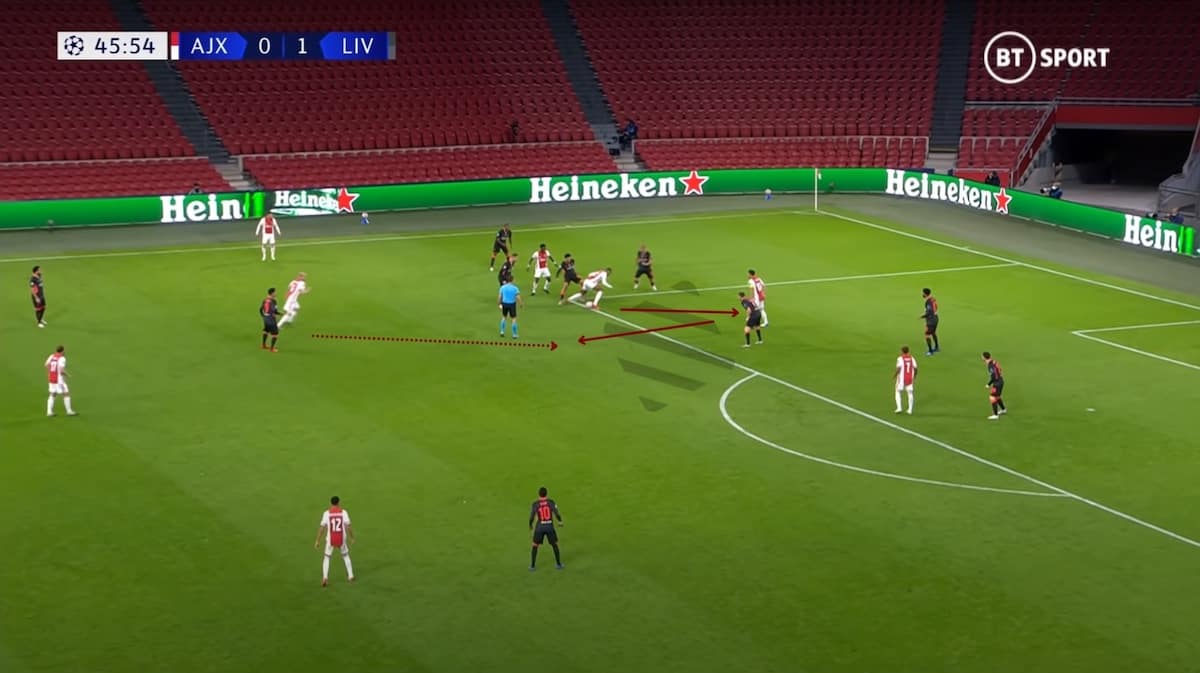 …which they are able to do with some good luck.
Fabinho is now needlessly out of position and Ajax have a pocket of space (shaded area) to work in. They play a simple wall pass to tee up Klaassen…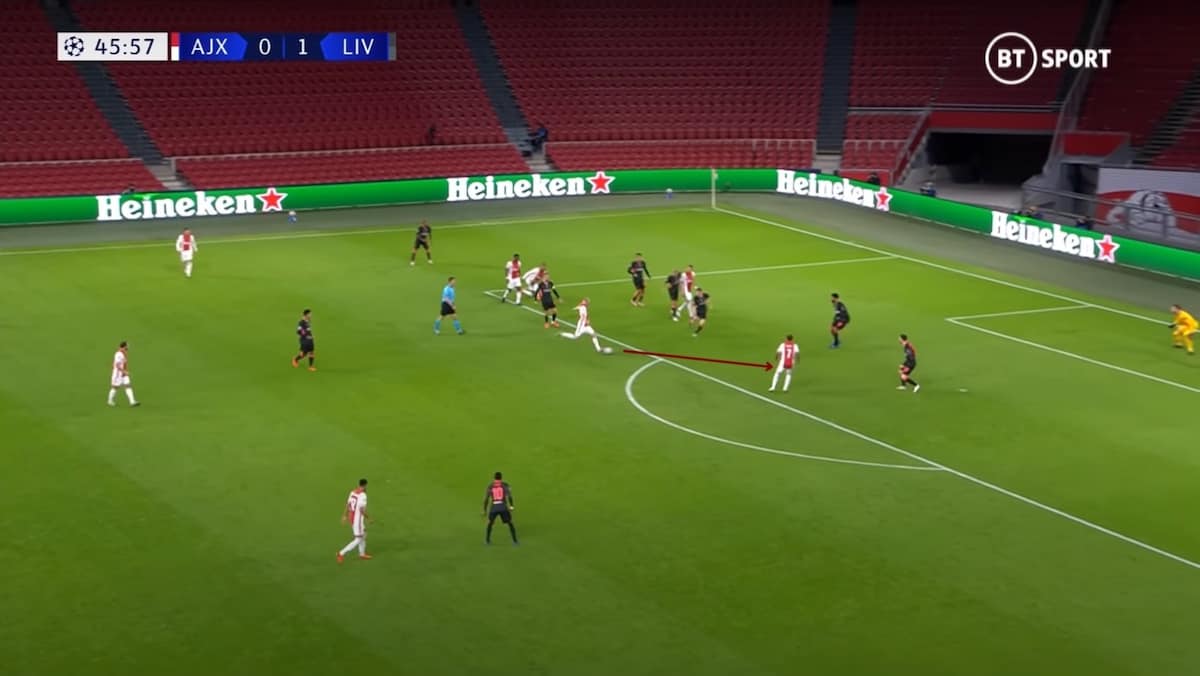 …who rattles a shot against the post.
We actually saw the same issue in the 4-1 defeat to Napoli earlier this season.
While playing as a midfielder, Fabinho found himself occupying a similar position in a similar situation – and he made a similar error: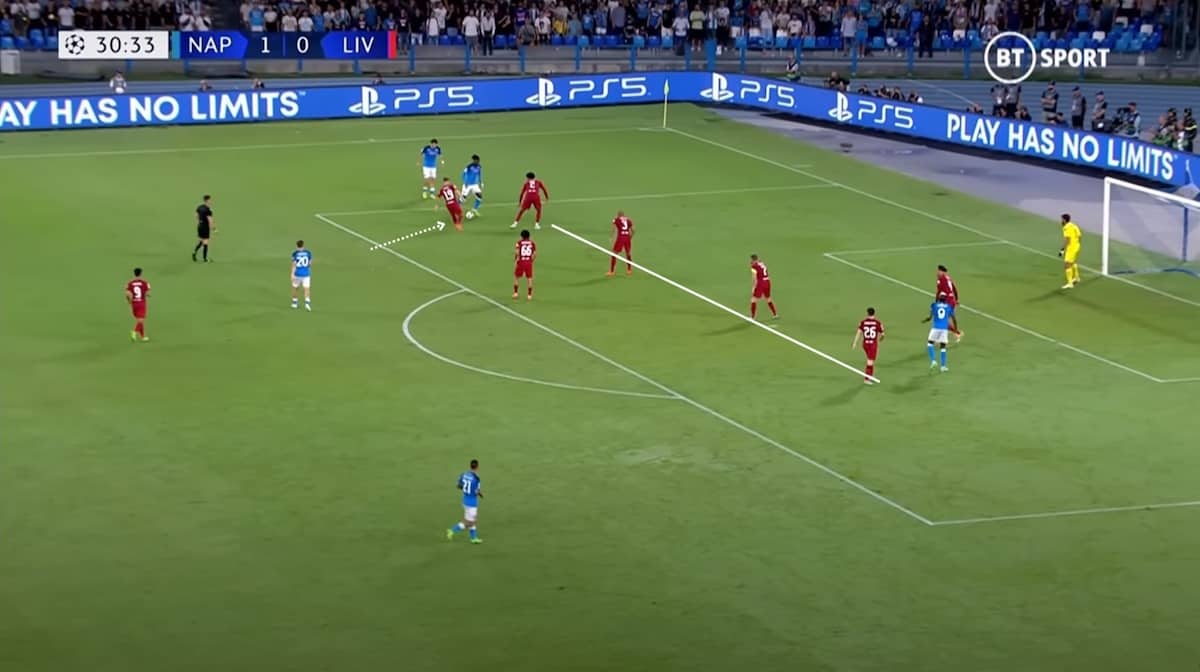 In this example, Liverpool are 1-0 down already and on the ropes. The entire back line and midfield are dropped in to lock down the defence and take the sting out of the game.
Fabinho is in a similar position in the right half-space.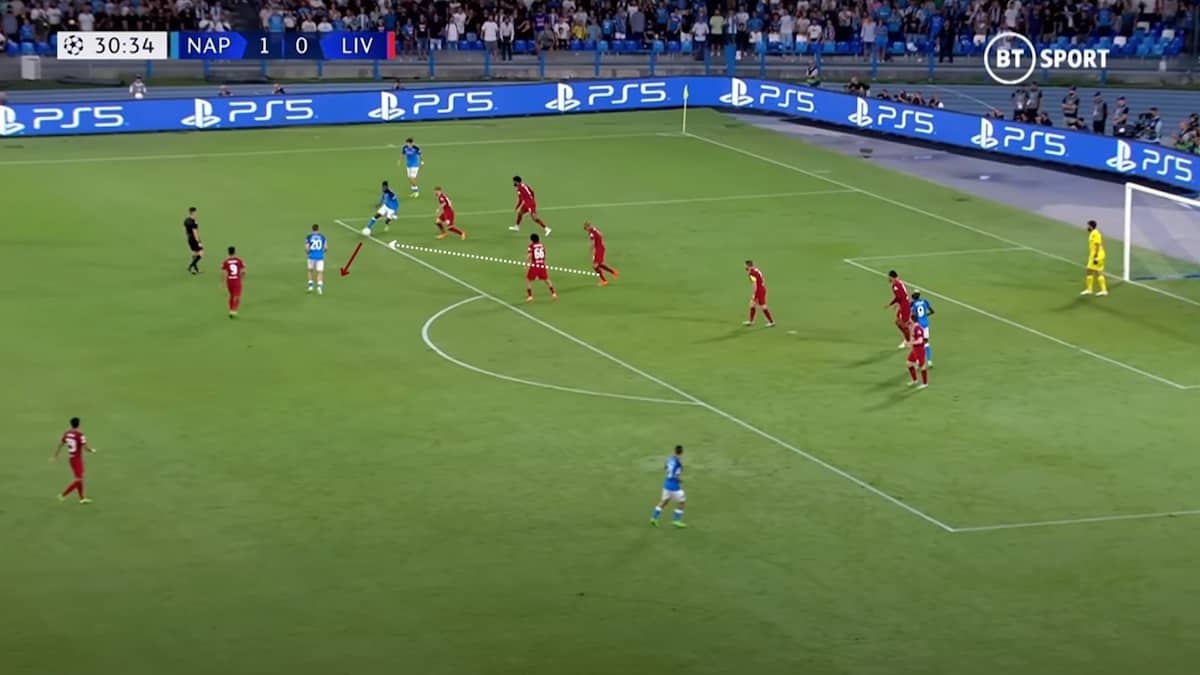 When Andre-Frank Anguissa dribbles inside, Fabinho – who isn't the closest defender to the ball – needlessly rushes out to press.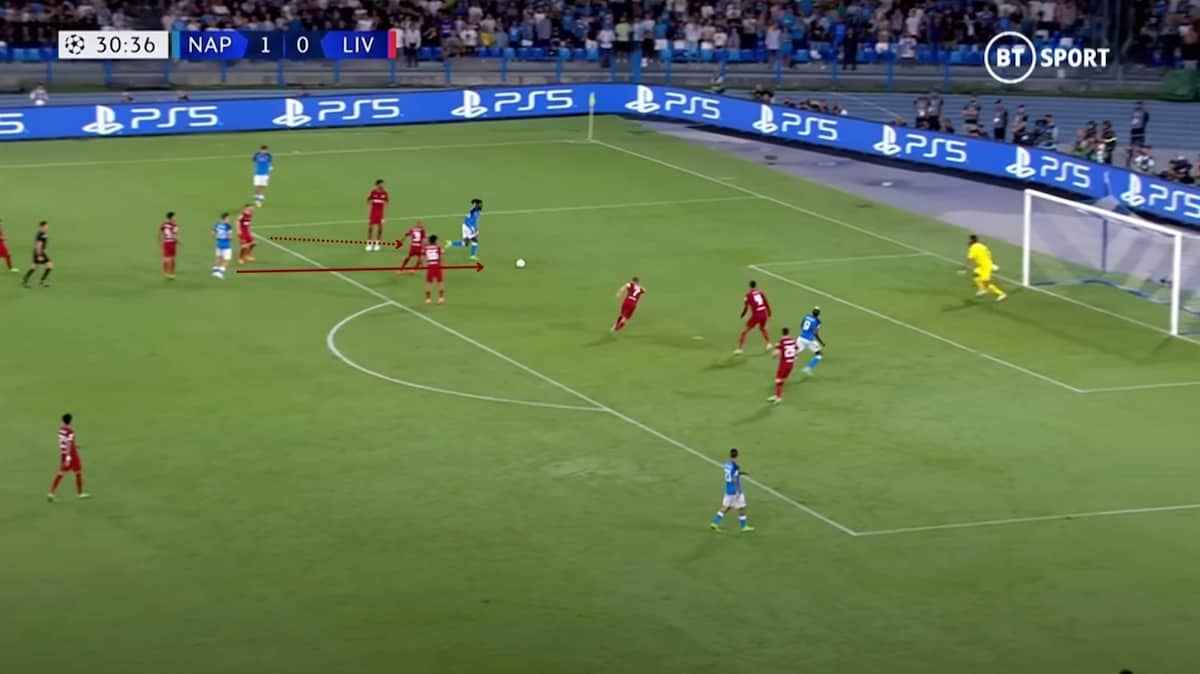 Anguissa makes a simple run behind Fabinho, gets played in and scores. 2-0.
Yet perhaps the most infamous moment from the Ajax game saw Fabinho's best qualities in action – his reading of the game, his anticipation and his decision-making: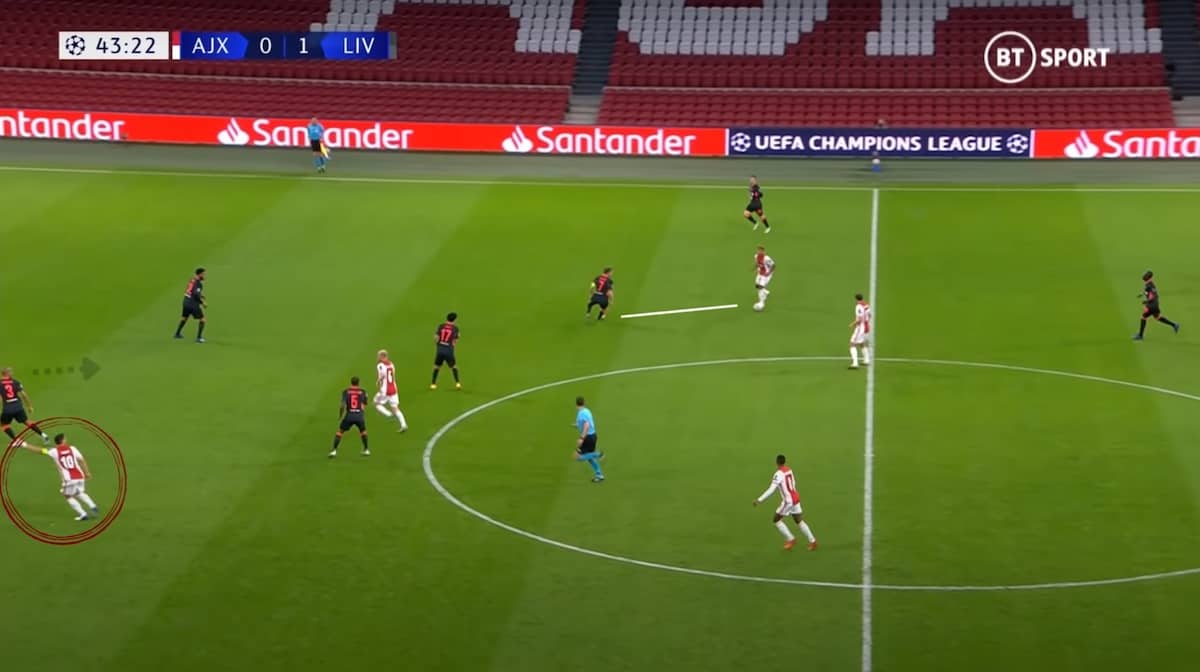 Ajax win the ball in midfield and break. Gomez steps up for offside, but Fabinho can see that there's not enough pressure on the ball.
He starts running back to track Dusan Tadic (10), who is pointing to where he wants the pass.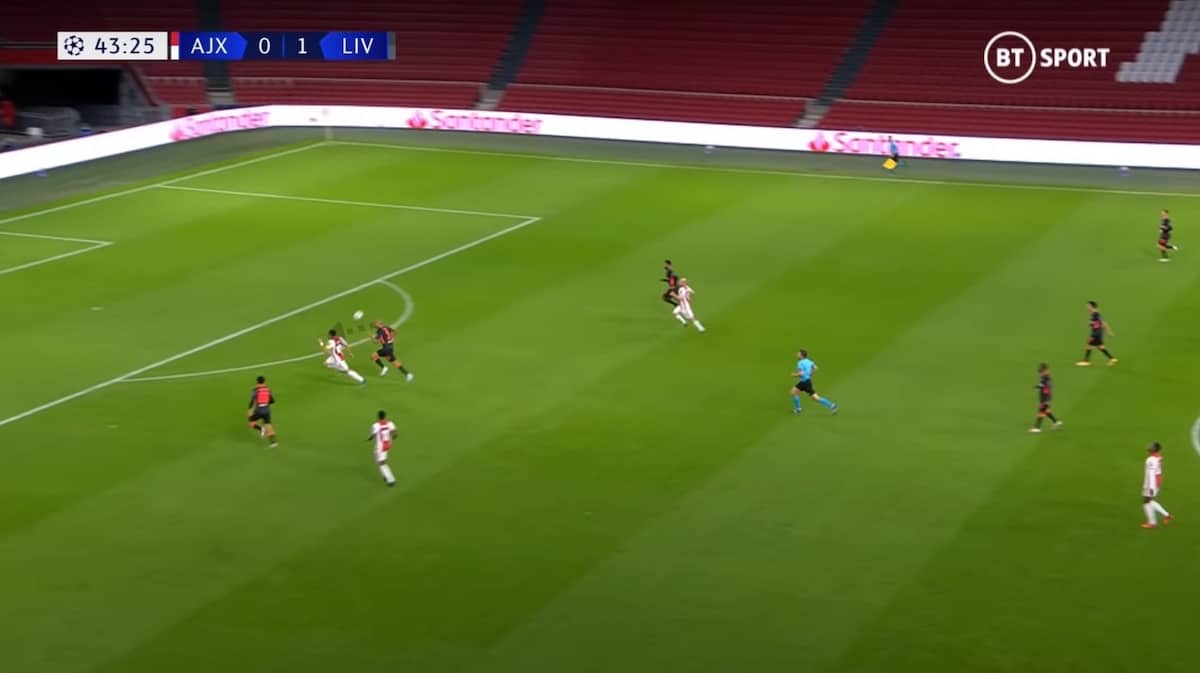 When the ball does come, Tadic is onside, and Fabinho correctly reads that the Ajax man is going to get away from him.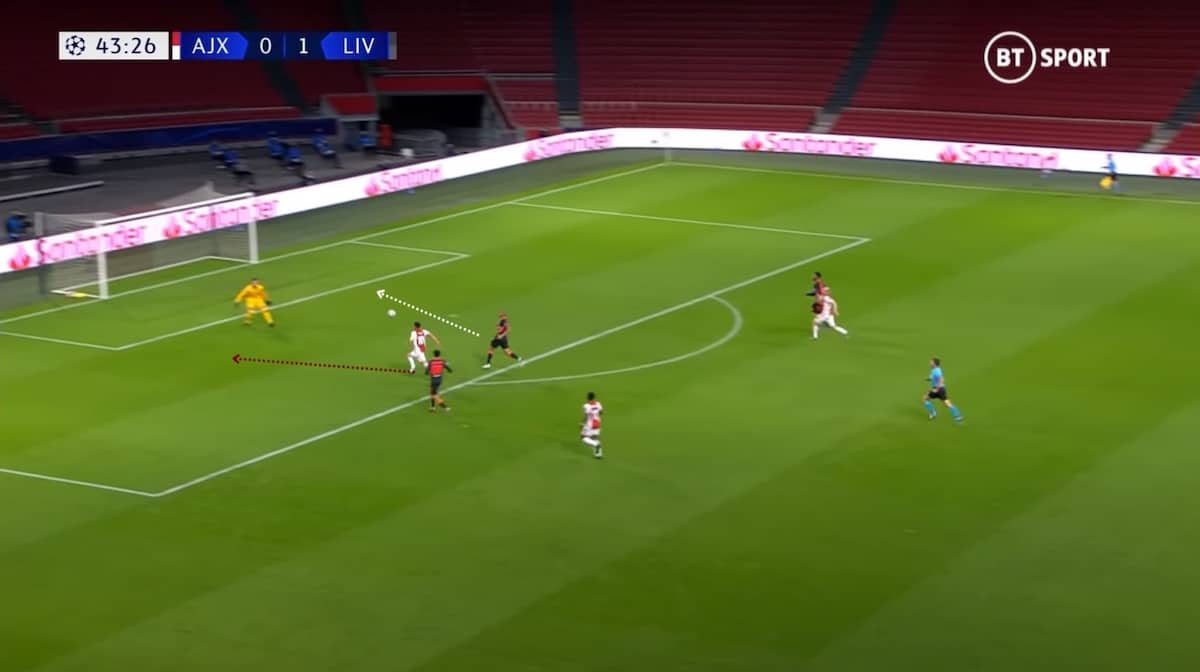 A good centre-back would follow their player and try to influence the shot. Fabinho goes one better and anticipates that Tadic will go for a lob.
He actually changes his run away from Tadic and lets him go for it, putting himself in a position to clear off the line…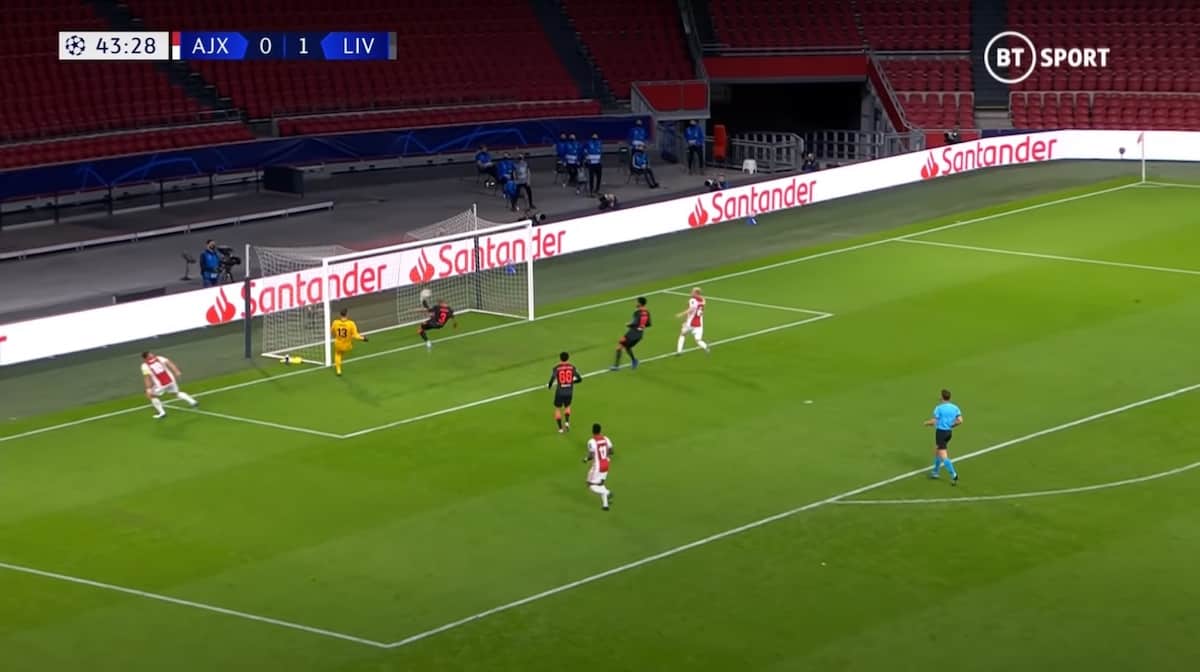 …which is exactly what happens. Liverpool finish the game with three points and a clean sheet.
Using the squad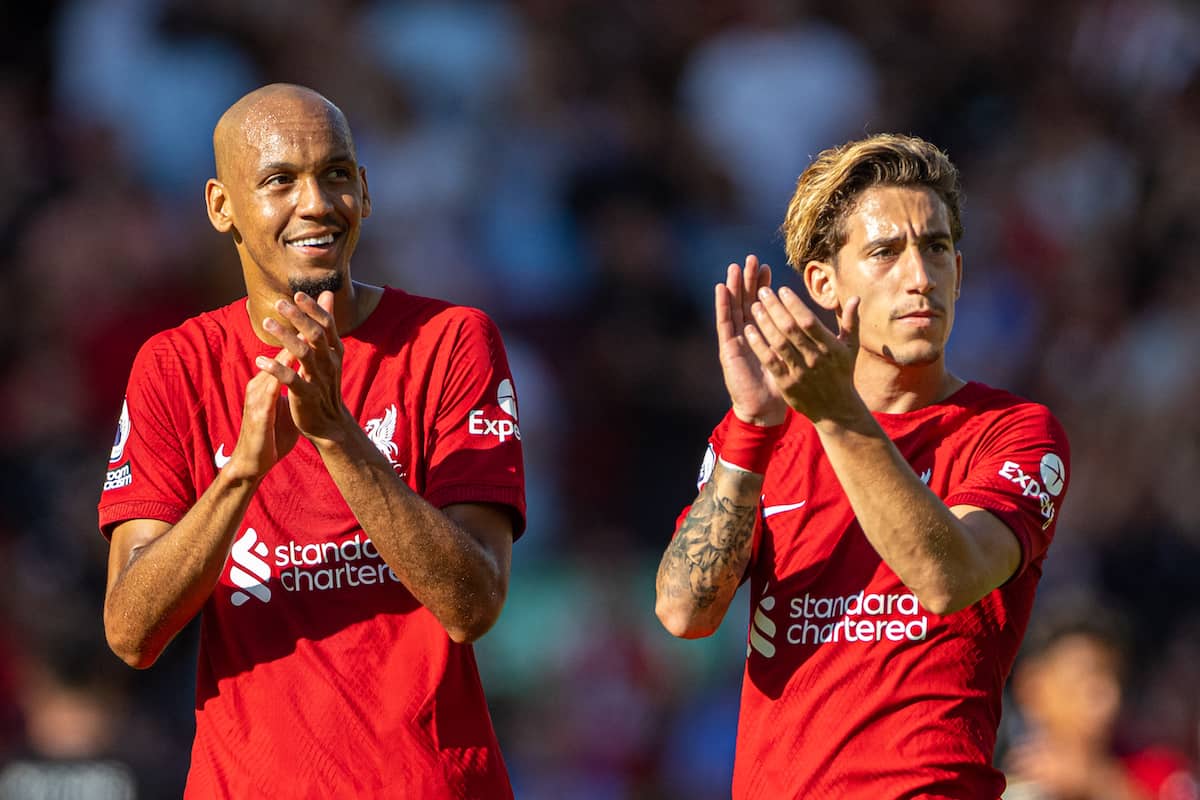 While many were disappointed with the January transfer window, the fact is that Liverpool now have to solve problems with the existing squad.
Fabinho is undoubtedly out of form currently – but he's shown his capacity as an elite player many times over.
Jurgen Klopp has recently highlighted Bajcetic's "good aggression," something painfully lacking in the current side.
Fabinho's been unable to harness his aggression in his midfield role, and so Liverpool have an elite player wasting away on the bench.
The current defensive injury situation could be an opportunity to get Fabinho's intensity back on the field and put to good use – sparking a reaction from a team in desperate need of one.