Liverpool have played 20 games in the Premier League so far and already find themselves 15 points behind their 2021/22 pace, and 23 adrift of their respective fixtures from last season.
Twenty games, eight wins, seven defeats and five draws, all amounting to 29 points from a possible 60.
We don't have to tell you the Reds have stumbled with great flair this season, the proof is in the results and the performances.
Jurgen Klopp's side currently sit tenth in the table and 21 points behind leaders Arsenal. Last season, the Reds were second with a gap of six points to Man City at the top after 20 games.
It means Liverpool have dropped eight positions in the table, have 15 points less, have scored 22 fewer goals and conceded 12 more after 20 fixtures this season in direct comparison to last.
But how do Liverpool compare regarding respective fixtures as opposed to just after 20 games? Clue, not any better.
* Green = win, Red = defeat, Yellow = draw
The findings do not make for pretty viewing, with Liverpool 23 points worse off this season than last. That's right, twenty-three.
Clubs relegated in 2021/22 have been swapped with promoted sides (Fulham for Burnley; Bournemouth for Norwich; and Nottingham Forest for Watford).
It is a combination that amounts to a point differential of minus five, with the respective games last season earning the Reds nine points as opposed to four this time around.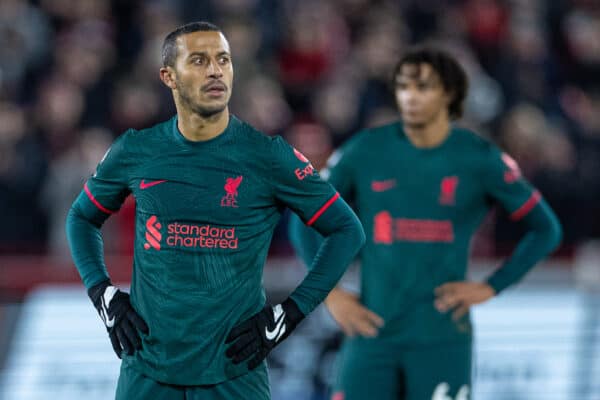 Reds have 23 fewer points in these fixtures compared to 2021/22
Only 7 results have remained the same (six wins, one draw)
These 20 games in 2022/23: 29 points vs. 2021/22: 52 points
In seven fixtures there has been no change and only two have improved: Man City (H) and Tottenham (A), with draws against those two teams in 2021/22 turned into victories this season.
In total, Klopp's side have walked away from a fixture with fewer points than in the respective game last season 11 times.
On six occasions a victory in 2021/22 has turned into a defeat this season, against Man United, Arsenal, Forest/Watford, Leeds, Brighton and Wolves.
From 52 points from these fixtures in 2021/22 to 29 this season, it's a stark decline and one that needs arresting before Klopp's side plummets to more new lows.